16 officers go for offences ranging from policy breaches to criminal behaviour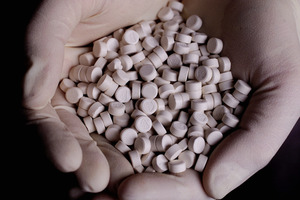 Theft, criminal links and forgery were among the reasons 16 Customs staff lost their jobs in the past five years.
Figures obtained under the Official Information Act show 43 employees have been investigated on allegations of misconduct, from breach of policy to criminal behaviour.
Of those inquiries, 16 staff either resigned or were sacked.
Customs declined to give specific details of the reasons for the investigations but gave broad categories such as theft, criminal association, falsifying documents, serious poor performance and inappropriate behaviour.
Two employment investigations are currently under way including one Customs officer facing 11 methamphetamine-related charges, including supplying the Class-A drug.
The Herald has learned of one staff member, based at Auckland International Airport, who was accidently discovered in the company of known underworld figures.
The Customs officer was on a boat stranded on the water which the police maritime unit turned up to help.
The police noted most of those on board were Asian organised crime figures and the officers were surprised to learn of the man's occupation.
The police notified Customs but an internal investigation was cut short when the staff member under scrutiny booked a one-way ticket out of the country.
A spokeswoman for Customs declined to talk about specifics of the case to protect the "confidentiality and privacy of individuals".
She said all staff are subject to police and security checks, as well as mandatory drug testing, and must declare criminal charges or convictions.
The staff Code of Conduct also requires employees to tell a manager if they have any concern about the behaviour or integrity of colleagues.
"All new staff must complete a conflict of interest form declaring any associations with users of illegal drugs or people involved with organised crime groups, gangs, or who have been arrested or charged with a drug offence. Staff are expected to update this information should it change."
Customs officer Tori Puata was jailed in 2004 for nine years after he helped a syndicate smuggle hundreds of thousands of dollars worth of methamphetamine into New Zealand.
Puata co-ordinated the syndicate's couriers while on duty at Auckland Airport and even carried drugs in himself.
He gave the syndicate information about Customs Service profiling techniques and work practices to help circumvent controls.
The amount of drugs imported is not known but on Puata's admission each shipment was of several ounces of crystal methamphetamine - worth between $140,000 and $168,000.
Customs
* 43 formal investigations between June 2007 and June 2012.
* 16 staff resigned or sacked - 0.26 per cent of workforce.
* Misconduct included theft, criminal association, falsifying documents, inappropriate use of Customs' systems, serious non-performance, inappropriate behaviour.
Missing drugs
* A package of 4.4kg of pseudoephedrine - the Class-B substance used to make P - seized by Customs later went missing in 2009.
* The package were the only drugs lost in a five-year period when 4000kg of illicit substances were intercepted.
* A police investigation found there was insufficient evidence to suggest the pseudoephedrine was stolen and an administrative error was mostly likely to blame. No disciplinary action was taken.