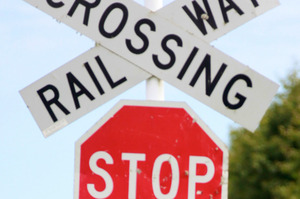 Police say a mother will probably be charged with allegedly driving her car with her two children inside in front of a passenger train.
The woman and her two sons, thought to be aged about five and eight, were "extremely fortunate" to escape uninjured in the crash at a level crossing near Darfield, west of Christchurch, about 5.15pm yesterday, Sergeant Dan Harker said.
"The car bounced back off the train rather than getting sucked under it. A tenth of second difference and they would have been hit with the full force of the train, and that would have been awful."
It took about 1km for the train to stop. Its fuel tank was ripped open and it spilled hundreds of litres of diesel along the track.
Mr Harker said it was likely the woman, who lived in the area, would be charged.
There were many passengers on the train, and any collision had the potential to cause it to derail, which could have devastating consequences.
The crash was probably caused by a lapse in judgement or concentration, he said.
"It's just like any other uncontrolled rural train crossing, which are all over rural New Zealand. People use them every day and then get complacent that there's never any trains there and then one day when they're not thinking they just drive straight into the side of one."
A KiwiRail spokeswoman said the train was the TranzAlpine service from Greymouth to Christchurch.
It had managed to get back to Christchurch unaided and had been repaired.
No train passengers were injured.
- APNZ