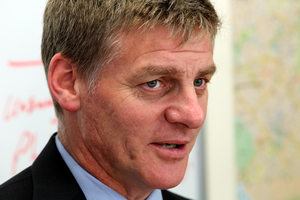 Finance Minister Bill English has been roasted by Public Service Association members for his party's failure to honour a promise to cap, not cut public sector jobs.
At the PSA conference in 2008, Prime Minister John Key, then leader of the Opposition, had told members that National would not reduce the number of public service jobs if elected.
PSA national secretary Brenda Pilott, speaking at the association's 2012 conference yesterday, said that in the last four years 3000 jobs had been lost in the core public service and 5000 jobs lost in the wider public service.
As a result, she said, members were working longer hours, facing larger workloads, and bullying was increasing in the workplace due to increased stress.
Mr English responded by saying that the world had changed in the last four years, and New Zealand's economy had been hurt by the global financial crisis and the Christchurch earthquakes.
"Financial restraint is pretty much permanent now," he said.
Government had decided that in uncertain times, public services needed the same level of funding, but not the same number of employees.
Mr English: "We made a deliberate choice not to go for reductions in service. We believe that particularly in times of uncertainty the public need the security of knowing that their public services are going to continue."
The minister was reminded by PSA members of the decline in some services such as the long waiting times for Housing New Zealand's new call centre, which partly replaced local offices.
Ms Pilott also expressed concern about public sector reform and changes to the State Service Act, which she believed would give Government far greater power over salary negotiations.
She said the bill would also mean employees would lose their redundancy entitlements if they moved to another job in the state sector.
"All this will do is encourage people to take the money and either move to the private sector or to come back as contractors."
Mr English said he did not think the bill would narrow the scope of collective bargaining.
After his speech, he was urged to back down on his decision to veto a bill which would extend paid parental leave from 14 weeks to 26 weeks.
The minister refused to change his mind, saying that it was a greater and more affordable priority to focus on the children of teenage mothers.