Govt won't save 400 jobs but says opposition to Bathurst project blocking 225 positions.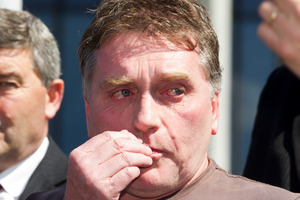 The Government has rejected pleas to save more than 400 mining jobs, but says more than half that number would be created if critics dropped their opposition to a proposed open-cast operation.
State-owned Solid Energy is planning the job cuts at the Spring Creek mine on the West Coast, the Huntly East mine in Waikato and in its head office in Christchurch.
Minister of Economic Development Steven Joyce said yesterday that if opposition to Bathurst Resources' Escarpment mine near Westport was dropped and court action ended, 225 jobs would be created for miners.
The Escarpment mine is an open cast coking mine on the Denniston Plateau, caught up in litigation costing the company more than $15 million.
But Forest and Bird Conservation advocate Nicola Toki said Mr Joyce was being opportunistic in deflecting the blame for the mismanagement of Spring Creek to critics of the Escarpment Mine.
"Mr Joyce has hit the panic button as a result of Solid Energy shedding hundreds of jobs."
Dozens of Solid Energy miners marched on Parliament yesterday, calling on the Government to save their jobs.
Grey District Mayor Tony Kokshoorn, representatives of the Engineering, Printing and Manufacturing Union and five miners met State-owned Enterprises Minister Tony Ryall in a final bid to save the jobs.
The group emerged from Mr Ryall's office looking defeated.
Spring Creek miner Trevor Bolderson was fighting tears as he told his colleagues the Government had rejected their bid.
"I'm bitterly, bitterly disappointed, I really am."
Mr Ryall said opposition to the Bathurst mine should be dropped, but agreed it was an emotional time for miners.
"The full range of emotions is what you're seeing - it is very, very sad for people who have been building their futures on this."
West Coast Labour MP Damien O'Connor said the Government was effectively readying Solid Energy for sale.
"Comments the job cuts at Solid Energy were not a sign of economic malaise and that job losses are part of a normal cycle of events cannot be interpreted in any other way, given the company blames the downturn and plummeting coal prices."
Greymouth woman Linda Neilson, who is a partner, daughter and sister of miners, said she was preparing to fight to get Solid Energy's decision to mothball Spring Creek overturned.
"There are families out there who have been let down; everyone is very concerned about what happened yesterday and something needs to be done so we still have a town," Ms Neilson said.
Jo Watson, who moved to Greymouth with her family from Britain about eight years ago, said they did not want to leave.
"I don't really want Ian [her husband] having to go elsewhere to work."
Ian O'Neill worked for Spring Creek for 36 years: "I wanted another 15."
Electrician Brett Cubbin moved to Greymouth from Tauranga with his wife and baby daughter two months ago.
"They told me I'd have a job for life. We're not from down here. We don't know anybody, we don't know where the jobs are. Where do we go now?"
- APNZ