Shared outdoor spaces have to be a strategy to attract visitors and to give families living in the central city increased access to the waterfront for their health and leisure.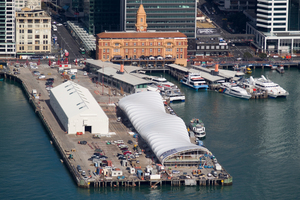 Waterfront Auckland has released its "placemaking" ideas for Queens Wharf, a set of temporary activities to make the large area an active space.
"Wynyard Quarter has its public piano, workshops and other activities, and we're applying that same approach [to Queens Wharf]. We're considering anything from barbecues on the end of the wharf, foosball tables, activities, more street furniture out front," said spokesman Luke Henshall.
Queens Wharf already had two events venues - the Cloud and Shed 10 - and the "placemaking" ideas were targeted at the open space in between.
General manager of development Rod Marler said the agency had begun experimenting at the recent Volvo Ocean Race, when greenery was brought in.
"It was a good opportunity to test how people would use that space, and it was very successful for visitors to gather and office workers to eat their lunches there.
It sparked some other ideas on how we could use that space even in a temporary way."
The opportunity for success on Queens Wharf derived from the 14 million people a year arriving and departing from ferries, buses and trains in the immediate area.
Ideas for "placemaking infrastructure" included covered seating, WiFi, mats, barbecues, meals on wheels on Fridays, the Food Truck for lunch, hoops and temporary courts for after work and a band rotunda.
Planning lecturer Joel Cayford said it was a good approach.
"Experimentation is good. It needs to be done at a sufficient scale, but anything that can be done that's of an experimental nature that's temporary and see how Aucklanders relate to it," he said.
Two years ago, just after it became public, a mostly spontaneous festival happened on Queens Wharf when two Korean warships visited.
The same thing happened when two Chinese warships docked at the wharf soon after.
Those experiences showed a potential that had been undermined ever since Auckland lost its Oriental Markets a decade ago, Dr Cayford said.
"The diversity that makes up Auckland's population - you wouldn't know about that from coming into Auckland's CBD."
It could lift the profile of Auckland internationally to show it embraced different cultures.
"We've done those things and we can do more of those things, and that's the place for it. There's quite a lot of room to move. We have a population open to it, and a design community who are up for being taken seriously.
Queens Wharf was still redeemable, Dr Cayford said, despite a lack of the proper planning process.
"The closest you got was a design competition. There were 80 entries, and many used the boat sheds, and to my mind, there were some extremely successful designs done there, which would give you a strong public realm and sense of economic vibrancy, and lead to something a bit more like Wynyard Quarter."
The Cloud was too big and inappropriately designed for just about anything Auckland would put on, Dr Cayford said. The deck at the end alone was successful. "Everybody wants to be in a place like that: elevated, north-facing, looking across the water ... but the other seven-eighths are surplus to requirements.
"I think we need another design competition. The creative talent we have in Auckland - and we have a lot of it - in a competition that isn't going to be shafted, to get some really good design ideas flowing."
San Francisco
The waterfront in San Francisco is one of the most visited harbour areas in the world.
Millions of people visit tourist hotspot Pier 39 because of its wide range of attractions and things for people to see and do.
At the centre of Pier 39 is a two-storey outside shopping mall built over the water where you will find a variety of shops and restaurants - the Hard Rock Cafe, free entertainment, an arcade, carousel and sealions.
Another big attraction on the San Francisco waterfront is Fisherman's Wharf, which has a range of restaurants and seafood street vendors. A large number of street performers gather here each day to entertain the crowds.
There are also two marinas, an arcade called the Musee Mecanique, which is packed full of antique games, the USS Pampanito (a World War II submarine), the USS O'Brien (a World War II ship) and plenty of souvenir shops to visit.
- Melissa Hills
The campaign
This week, we examine the key issues in a campaign to break open Auckland's waterfront. This means:
1) Opening up what's already there for everyone's use - particularly Queens Wharf, which is still far from reaching its potential;
2) Looking ahead to more wharves being opened, notably Captain Cook Wharf; and
3) Planning the entire waterfront - importantly, including ports land - as urban space, whether or not the working port is retained or developed.
Monday: What readers want on the waterfront
Tuesday: Auckland Architecture Association sketches the all-time good ideas
Today: Tourism on the waterfront
Tomorrow: The working port and its vision for Auckland
Friday: Where our city leaders stand.