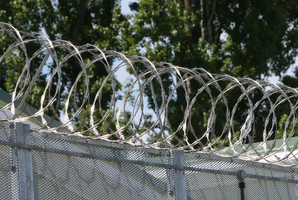 A prison guard has been taken to hospital with injuries suffered in an assault by an inmate at Hawke's Bay Regional Prison.
Corrections said the officer received bruising and swelling to his head and face in the assault by the prisoner on remand yesterday.
Police have launched an investigation into the incident.
Acting prison manager Yvonne Fuller said the inmate who carried out the assault is due to appear in court in the coming weeks.
Identifying him would prejudice future judicial processes, she said.
The assaulted officer has been discharged from care and is expected back to work this week, Ms Fuller said.
The incident follows a July 14 attack which left an experienced Hawke's Bay Regional Prison guard with a fractured eye socket and a piece of his cheek missing.
Corrections Association president Bevan Hanlon said the guard was blind-sided and hit with a flurry of punches to the head.
He had to take eight weeks' leave to recover from the attack.
Police charged a 30-year-old inmate with wounding with intent to injure.
- APNZ