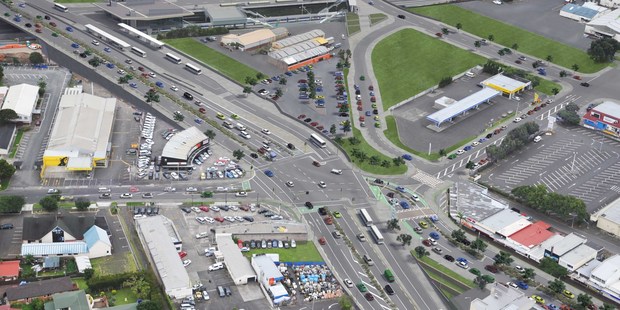 Days are numbered for Panmure's notoriously large roundabout as a new road is built nearby to ease traffic, before it can be replaced by a super-intersection.
The five-legged intersection, through which an off-road busway will ultimately run to Botany via Pakuranga, will be developed from 2015 in the second stage of the $1.5 billion package of transport projects for southeast Auckland called Ameti.
Work is progressing on the first $180 million stage, for which most of a trench which will thread a new 1.6km road under the Ellerslie-Panmure Highway to Morrin Rd to the north has been dug parallel to the suburb's railway station.
Although the road will initially have only one vehicle lane and a cycle lane in each direction, its corridor is being "future-proofed" for four lanes, and it will eventually extend to Merton Rd in Glen Innes.
The Panmure train station is also being upgraded at a cost of $17.5 million to become a two-level rail and bus interchange, for which design details were unveiled yesterday by Auckland Mayor Len Brown, who was on site to pour concrete into the floor of the road trench.
The trench will be covered by next winter to form a 220m traffic tunnel between the highway and a recon-figured Mountain Rd, enabling buses, taxis and cars to drive over its lid to drop off and pick up rail passengers.
A new bridge is also taking shape beside the Ellerslie-Panmure Highway over the railway to form the start of the busway to Botany and traffic will be diverted to it temporarily from next month to allow the highway's existing road bridge to be replaced.
Auckland Transport major projects manager Rick Walden said the new road, which is expected to carry about 20,000 vehicles daily including 2400 trucks, had to be built first to ease pressure off Panmure's roundabout before that could be replaced.
The ultimate Ameti plan involves taking even more pressure off Panmure by diverting commuter traffic from eastern suburbs such as Howick to the Southeastern Highway via a flyover of Ti Rakau Drive from Reeves Rd behind the Pakuranga town centre.
Subject to funding approval from the Government's Transport Agency, that will be built as part of Ameti's second stage, as will a separate bridge to carry buses across the Tamaki River to Panmure, beside the existing three-lane traffic crossing.
The second stage is expected to cost about $400 million, but the transport bodies have yet to decide whether the Waipuna Bridge needs to be widened to cope with more traffic on the Southeastern Highway, which has a daily count of 60,000 vehicles.

$580m investment in highways
Auckland Eastern Manukau Transport Initiative (Ameti):
Stage 1 (2012-2014)
$180 million. Includes: 1.6km road from Mt Wellington Highway to Morrin Rd; two road bridges; one bus bridge; upgrade of Panmure railway station into bus-train interchange.
Stage 2 (from 2015)
About $400 million. Includes: replacing Panmure roundabout with signalised intersection; busway from Panmure to Pakuranga; separate bus bridge across Tamaki River; road flyover from Reeves Rd, Pakuranga, to Southeastern Highway; 7km of new cycling paths and 6km of footpaths.