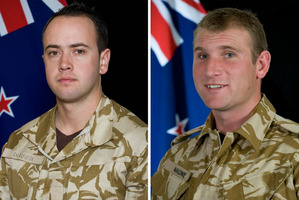 A Taleban arms dealer who was captured in Afghanistan in relation to the deaths of two New Zealand soldiers was stockpiling for further attacks, Prime Minister John Key says.
A senior Taleban official was arrested on Sunday in a raid by International Security Assistance Force members, with two other insurgents.
ISAF officials confirmed that the insurgent was part of the organisation that attacked New Zealand and Afghan forces on August 4, killing Lance Corporals Pralli Durrer and Rory Malone.
Mr Key said yesterday that the Taleban member had managed the purchase and distribution of rocket-propelled grenades, heavy machine guns and explosive materials to attack Afghan and security coalition officials.
"At the time of his arrest, the Taleban weapons dealer was believed to be acquiring additional firearms and explosives for further insurgent attacks," he said.
The insurgent was understood to be the third-ranking Taleban member in the Tala Wa Barfak district in Baghlan province, which borders the Bamiyan province where New Zealand troops were based.
It was not known whether he played a role in a separate attack on August 19 which led to the deaths of three members of the New Zealand Provincial Reconstruction Team.
Corporal Luke Tamatea, Lance Corporal Jacinda Baker and Private Richard Harris were killed when their Humvee struck an improvised explosive device.
Mr Key said the ISAF operation on Sunday, in which one insurgent was killed, did not include any New Zealand troops.
The SAS were deployed in a non-combat logistics role in the Bamiyan region after the five deaths. Mr Key would not confirm whether SAS intelligence led to the capture of the Taleban member. "All I can say is that I think their role in Afghanistan has been helpful."
The Defence Force planned to extend its patrols into the neighbouring Baghlan province to snuff out further attacks, but it was not known whether these patrols had begun yet.
The Labour Party opposed this strategy, saying the region was unsafe and New Zealand still did not have mine-resistant vehicles.
The last deployment of New Zealand troops to Afghanistan departs today and the PRT is expected to withdraw completely by the end of April.