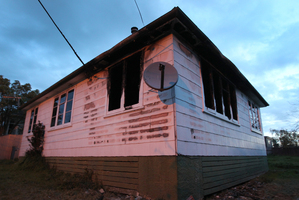 The simple act of leaving a lamp on at home sparked a blaze which totally destroyed a Waipukurau home at the weekend.
The fire is believed to have started from a lamp on a stand in the corner of a room - what authorities are calling a "million-to-one" chance.
Bryan Saxton lives directly across the road from the Freyburg Terrace property and woke about 12.30am on Friday to see the massive fire fully under way.
"I was just hoping he wasn't in there. When I woke up the next morning and saw the tape around there, I thought he must have been.
"When I saw it, the flames would have been as high as the roof. By the time the fire engines got here, she was as high as that chimney. All the windows were blowing, I could hear them popping.
"[It] was a thing to see, I didn't know a house could go up so fast."
He was surprised at how quickly it went up in flames and thought the strong wind that evening helped stoke it.
The fire appeared to have gutted the inside of the house, but the structure itself remained standing.
Mr Saxton said he didn't know the occupant very well, and they had only chatted a few times.
Waipukurau deputy chief fire officer Owen Spotswood said they arrived to see smoke and flames coming down the street, and while it only took about 10 minutes to stop the fire, it took three hours to extinguish it.
"I believe the house is probably past the point of return," he said.
The cause was "just a normal lamp on a stand in the corner of the room".
"The occupant had left to travel out of town early in the evening and had left the light on in the lounge to indicate somebody was home. He has probably done it a million times before without a problem, but it only takes that million-to-one time to create a problem.
"We considered it quite suspicious to begin with, so police and fire safety were involved."
Meanwhile, an out-of-control burn-off was attended by rural fire fighters in Hastings yesterday.
It is believed smoke from the fire had nearby residents concerned a small plane had crashed.
The fire, at a rural property on Omahu Road, was too close to a nearby hillside and set it alight.
Hastings District Council Rural Fire officers extinguished the flames, said emergency management officer Warren Meldrum.
For more articles from this region, go to Hawkes Bay Today