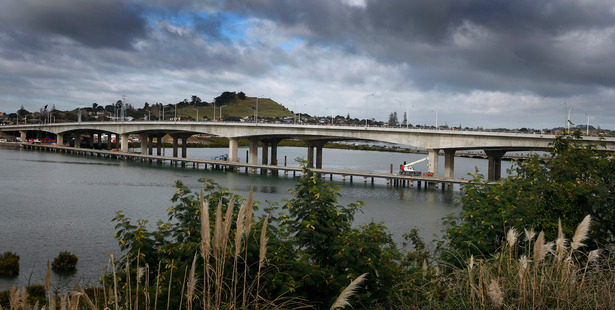 A police sergeant commandeered a waka and two other officers braved freezing water to rescue a man who jumped from an Auckland bridge this afternoon.
Inspector Peter Raynes said the man, who was standing on the outside of the rail on Mangere Bridge, told people he was going to jump into Manukau Harbour below - about a 30m drop.
Police were called, but by the time a sergeant and two constables from Auckland City and Counties-Manukau had arrived the man had already jumped.
The quick-thinking cops then commandeered a waka whose crew were practising nearby.
The sergeant and the crew rowed the waka out to the man who was trapped in the current under the bridge, Mr Raynes said.
"Two other officers arrived on the shoreline and took off their body armour and their boots and swam out to help the male get into the waka.
"Complete bravery, it was absolutely fantastic."
Mr Raynes said it was difficult to get the man into the waka because he was weighed down with heavy clothes.
The man was taken to Auckland Hospital with hypothermia and injuries from his jump.
The constables suffered minor scratches and cuts to their legs and feet from the rocks on the shoreline.
They had been sent home for the day, Mr Raynes said.
He said the officers showed an "outstanding display of professionalism and bravery" in the cold conditions.
They would be recommended for bravery commendations, Mr Raynes said.
- APNZ