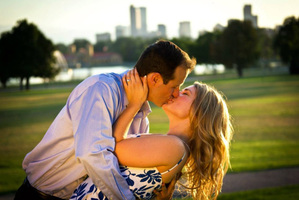 The parents of a honeymooning American couple involved in a horror crash that killed the young husband and left his new wife critical say the generosity of New Zealanders has touched their hearts.
Gary and Jean Stithem and Jim and Gerri Steinke, from Denver, Colorado arrived in New Zealand yesterday morning and drove straight to Waikato Hospital.
Kallan Stithem, 31, died at the scene of Thursday's crash at the Waitomo Caves intersection at State Highway 3.
His wife, Kirsten Steinke, remained in a critical condition in the hospital's intensive care unit today.
In a statement released today, their parents thanked all those who responded so quickly at the scene including fire fighters, two midwives, emergency service personnel and the Westpac Waikato air ambulance.
"We also want to express our heartfelt appreciation for the generous offers of assistance from New Zealanders who understand our sorrow and tragedy.
The enormous generosity of so many people of this nation has touched our hearts.
"Thank you all,'' the couples said.
Mr Stithem and Ms Steinke were married just over a week ago in the US and were honeymooning at the Kiwi Paka Hostel in Waitomo when the crash happened.
Sergeant Warren Shaw said the couple's car failed to give way at the intersection with the main road.
A truck T-boned the driver's side of the vehicle, killing Mr Stithem.
The crash is the second fatal accident at the intersection this year and has residents calling for urgent action, despite already extensive remedial works at the site.
Canadian tourist Michele Smith died when the campervan her husband was driving and a truck collided at the same spot in February.
NZTA state highway manager Kaye Clark said the agency planned to increase the road width adjacent to Mangarino Rd on SH3 and install a right-turn bay over summer.
The couples also thanked Air New Zealand who "red tagged'' them from Los Angeles to Auckland and fast-tracked them through Customs, and expressed their gratitude to Waikato Hospital staff.
Dog and Lemon Guide editor Clive Matthew-Wilson said the accident could have been avoided if the road had rumble strips.
A major US study of the use of rumble strips at rural intersections concluded that there was "compelling evidence that in-lane rumble strips promote safer stopping behaviour on approaches to stop-controlled intersections ... . Drivers reduced speed earlier and to a greater extent at rural intersections with rumble strips'', he said.
The New Zealand Government's own studies showed rumble strips were effective at alerting drivers to potential hazards such as drifting out of their lane.
- APNZ