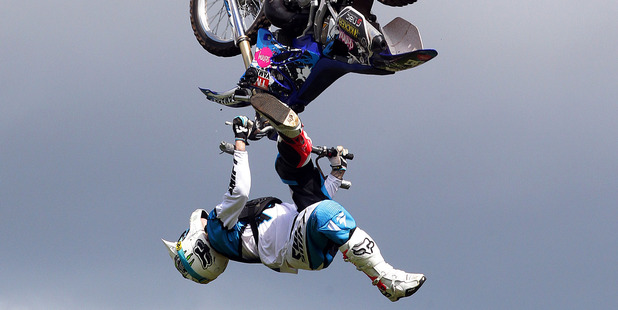 Three years ago it seemed Luke Smith's motocross career was over. A serious head injury left him unable to walk or talk and doctors told him to give up the extreme sport.
But in a few months the former Crusty Demons rider will perform in his first big home event since the 2008 accident.
British-born Smith, who lives at Stanmore Bay, is one of the few Kiwis to star in Nitro Circus Live, an extreme riding event visiting New Zealand in February.
The 30-year-old has endured years of rehabilitation - learning how to remember, walk and talk, and battles with bouts of depression. "I have spent a lot of time rehabilitating myself and I didn't do that to potter around," Smith said.
"I always wanted to get back on my bike and back in front of the crowd, that is what makes me feel alive."
Smith crashed in Kumeu, West Auckland, after a stone flicked into his front brake. He hit the dirt head first and his helmet shattered.
"For the first three months I didn't know who I was. It was a difficult time but I got to see the fight I had in me," Smith said.
He enrolled in a graphics course and started his business Moto Mayhem. He said designing motorbike and car graphics was a way to stay in the motocross community.
Seven months ago Smith was back riding, and next year he will join 40 of the best riders in the world in Nitro.