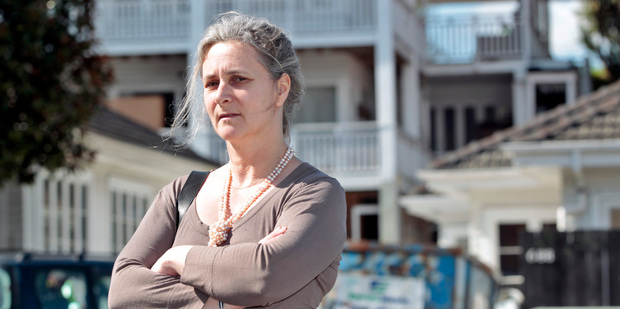 An alleged tinnie house has been sold in Grey Lynn
An unusual sales pitch on a large house at auction this week was a warning to buyers: "Do not be misled by the reasonable exterior of these two dwellings, all is not well within."
The section in Auckland's sought-after suburb of Grey Lynn has two properties under one title, with two street frontages, on Tuarangi Rd and Great North Rd.
It sold for $905,000 at auction on Wednesday to a buyer who declined to be identified.
The house had been seized by the Crown under the Criminal Proceeds (Recovery) Act while its owner faces serious drug charges.
A man at the property before it was sold - who wanted to be known only as Mark - said he was the caretaker while the owner was in custody. He said the property had a chequered past but he was sad to see it being sold.
"It's been firebombed twice. We've had armed offender squads, boobie traps, arson attacks. It has a story to tell," he said.
Agent Steven Glucina said the property had a council valuation of $740,000 and was a "huge opportunity for builders, developers, experienced DIY people and astute investors".
"I know once the house has been given a facelift people will know pretty quick the place has changed and won't be turning up there," he said.
Until this week, the property was owned by a trust set up by Terence Winsor, who faces charges including permitting premises to be used for drug-taking, possession of cannabis for supply, unlawful possession of a firearm, assault with intent to injure, possession of utensils for methamphetamine, selling cannabis and setting a man trap.
Winsor's ex-wife, Kathy Hansen, said she was given four days to remove her belongings before security guards moved in. "I was told to get off the property while in the process of moving. I returned the following day to find my belongings had been stolen," she said.
She said she and her former husband had looked after disadvantaged people and the mortgage had been paid for by rent. "I provided accommodation for the last 13 years to various people," she said. "(I) have paid a very heavy price for my kindness." Hansen now faces charges of conspiring to sell drugs.
A resident on the street, who did not want to be named, said he was relieved the house was being sold. He said the house had a lot of visitors who had intimidated his family at times.

Crown banks $17m in forfeits so far
Nineteen houses have been approved for sale and the proceeds handed to the Government since the new laws to fight organised crime were introduced less than three years ago.
The houses have been valued at an estimated $5.4 million.
The police can put a restraining order on assets they believe were bought from the proceeds of crime.
The onus is on an owner to prove how the house was paid for, so it still can be forfeited even if they are acquitted of criminal offending.
If the owner fails, the court orders the property sold and the money paid to cover the remaining mortgage, costs of the sale, the former owner's legal aid bills, reparation and fines.
Any money remaining goes to the Crown.
Currently, 590 assets are held under the Criminal Proceeds (Recovery) Act.
An estimated $78 million worth of assets are frozen and pending a court order.
They include 104 residential properties, 229 bank accounts or cash, 116 cars and 40 motorcycles.
On top of the $78 million frozen, a further $17.5 million has been handed over to the Government.
Houses Forfeited:
Auckland: 2
Bay of Plenty: 4
Central: 2
Counties Manukau: 1
Eastern: 1
Southern: 3
Tasman: 1
Waikato: 2
Waitemata: 2