Without the victim's body to help their inquiry, detectives are tested to fill in the blanks of the Rae Portman case.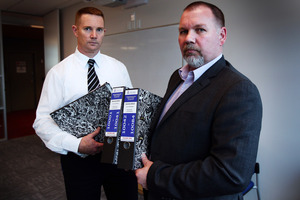 The detective hunting the killer of Rae Portman believed he was looking at a murder from the moment he opened the missing person's report.
Detective Inspector Mark Gutry, an experienced homicide investigator leading the inquiry, said he often got a "feeling" when investigating missing people.
"Some people go missing and they don't want to be found but they leave a trail, we all do. If you are missing and don't want to be found you can't help yourself, you will turn on your phone or access money," he said.
Portman's pregnancy, withheld from the public for the first few weeks of the inquiry, was also an indication she would not have been suicidal or gone into hiding. Information from her friends and associates have since confirmed his instinct.
This week the investigation into Portman's disappearance was upgraded to a homicide.
Gutry and Aaron Proctor, the officer in charge of the case, visited Portman's mother, Rebecca Norton, and talked to her for an hour before making the announcement on Tuesday.
Gutry said it was unusual to be investigating a murder without a body. Similarities have been made between Portman's disappearance and that of Carmen Thomas, which also began as a homicide inquiry without a body.
"Usually a body is a starting point but in this case it's different. People have compared this case to Carmen Thomas. They are similar but different."
Police had grave fears from the time Portman's mother reported her missing on July 2. Norton went to Hamilton police after she hadn't heard from her daughter in a couple of weeks.
"She rang around her friends and after hearing they hadn't heard from her either she went to the police and made a missing person report," Gutry said.
Portman, known by her nickname Bok, was involved in the drug world, selling and distributing between the Waikato and Auckland regions.
"Rae travelled around a bit. She stayed with friends and moved from place to place. Initial inquiries indicated her last movements had been in Auckland," he said.
The case was transferred to Auckland on July 13. Her phone records and bank account showed she had been staying at the Mt Albert Motor Hotel.
The motel told police Portman had failed to check out. Her belongings were handed to police.
"Once we spoke to her associates and mother we built up a picture of the type of people she had been associating with in the drug world. That picture gives us an idea of where we should start looking," he said.
The last known sighting of her was when she left the motel at 8pm on June 20.
She had arrived in Auckland in her silver Volkswagen Passat but she left it with a friend to repair after it failed its warrant.
Police do not know how she travelled back to the motel after leaving her car with the friend.
"We know she met various people that day and we have spoken to all of them. All of them were co-operative and we have built up a picture of her movements that day," he said.
The team of 21 detectives have spoken to a large number of friends, some linked to the drug scene. Police have arrested four associates after uncovering alleged offending while they searched for her - two for drug offences, one for a previous assault on Portman, and another for selling her car without permission after she went missing.
Gutry said those charges were unrelated to her disappearance but police were keeping an open mind. He would not say if he had a list of suspects but said all the people spoken to were "people of interest".
One detective has been assigned to keep Portman's family informed of developments. The file is now growing and fills a stack of boxes of statements, photographs and other information received.
"It's amazing how quickly it builds up. We have spoken to just over 100 people, some we have gone back to more than once and some we have spoken to for a whole day," Gutry said.
An 0800 number had received 32 calls, Crimestoppers had six callers and 12 calls had been made to the police communication centre. A Facebook page had prompted 92 messages and almost 650 likes.
Gutry believed people holding key information hadn't contacted police. He has renewed the call for information, particularly about where her body might be.
"The biggest thing is for us to find Rae for her family. Her family need to lay her to rest and need to find answers," he said.
Can you help?
Contact police on 0800 723 767, Crimestoppers on 0800 555 111 or visit Where is Rae (Bok) Portman on Facebook.
From missing to murder
June 20: Last known sighting of Rae Portman.
July 2: Her mother, Rebecca Norton, reports her missing.
July 13: File sent from Hamilton to the Counties Manukau CIB.
August 10: Police make public appeal.
August 20: Voi King appears in court charged with assaulting Portman.
September 4: Mother appeals for information and reveals that Portman was pregnant.
September 11: Kristina Le-Noel charged with taking Portman's car.
September 18: Police say they believe Portman was murdered.