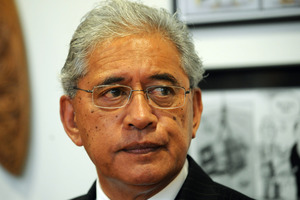 Maoridom's oldest tribal alliance since the signing of the Treaty is under serious pressure an insider says over water but leaders from both Ngati Tuwharetoa and Waikato-Tainui say the relationship will endure.
Tuwharetoa tribal sources say Tukoroirangi Morgan's backflip on water issues - he used to be part of the Iwi Leaders Group (ILG) working with the government on the issue but seems to have aligned with the Maori Council since King Tuheitia's water summit last week - has trampled on the mana of Tuwharetoa's paramount chief Sir Tumu te Heuheu. Sir Tumu also chairs the ILG Freshwater group.
Mr Morgan used to be a member of the ILG but was replaced after losing tribal elections earlier this year.
Sources told the Herald there was simmering discontent in Tuwharetoa over Mr Morgan's role:
"It's a new sandpit for him to play in, inspite of the work that Tumu has done specifically on behalf of the motu [all the tribes]. It's pretty disappointing considering he used to run with us and he used to run the Maori Council down; and now he's giving CPR to them."
"Tuwharetoa is pretty pissed off at how Tumu's been treated."
Asked to describe the Kingitanga relationship, the source said: "That's rather sort of strained. The big issue is what does that mean for the traditional relationship of the house of te Heuheu and the house of Potatau?"
The two iwi have the only remaining hereditary paramountcy in the country and have been strongly linked since Potatau Te Wherowhero was chosen as Maori king on the shores of Lake Taupo in 1858. Waikato-Tainui's Kingitanga rangatira is King Tuheitia who told 1000 gathered at Turangawaewae Marae that Maori had always owned water.
As well as unity the hui resolved that a new body be established to set out a framework around proprietary water rights. Further those need to be settled before the sale of shares in state-owned Mighty River Power and before iwi and hapu enter negotiations with the Crown.
Mr Morgan, now a spokesman for King Tuheitia said iwi leaders were "bound" by the decision.
But Sir Tumu responded this week by saying he had been mandated by his iwi to deal directly with the government on the issue.
Tribal heavyweight Napa Otimi warned reporters away from Sir Tumu after his speech at a Crown Shares Plus consultation hui.
Tuwharetoa Maori Trust Board chair John Bishara said even if the tribe entered Crown negotiations he didn't think it would have a bearing its Kingitanga relationship.
"Hell no. It's been going way for way before us and it'll go way beyond us. And it's important we keep that relationship...I don't think this water issue is going to destroy any relationship we've had in the past or in the future."
Waikato-Tainui executive chairman Tom Roa said he perceived the speech as taking a "strong stance" on iwi and hapu rights which recognised their autonomy. In terms of the relationship with Tuwharetoa he said: "When somebody takes a strong stance...there's always going to be a dynamic...those iwi who have always been very strong with the Kingitanga will find a difficulty in the dynamic. I believe there is a respect both ways and from that respect the dynamic can be balanced.
Mr Morgan did not return Herald calls.