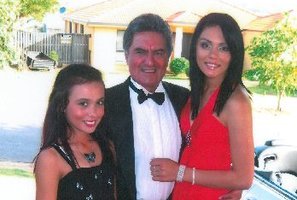 A former babysitter has renewed her attempts to claim a family's child as her own after making contact with the teenage girl via Facebook.
Rotorua-born father Rongo - aka Ronnie - Ransfield, 69, thought the battle to keep his 18-year-old daughter Tania was over years ago. But he said the former babysitter and her partner - who claim Tania as their own child - were now trying to befriend the teenager through social media.
The long-running custody battle began in the late 1990s and has already cost Mr Ransfield and his wife Jennifer at least $20,000 in legal fees fighting to prove they were Tania's parents.
The woman trying to claim maternal custody of Tania is Mr Ransfield's half-niece, Joanne Taikato.
Ms Taikato and Sam Nakhle told The Daily Post they are Tania's parents, saying she was the product of the couple's embryo which went missing from an Australian fertility clinic.
Mr Nakhle said he had a DNA sample which proved Tania was his daughter.
However, Mr and Mrs Ransfield also took DNA tests which Mr Ransfield said showed a 99.9 per cent probability they were the parents.
Mr Ransfield, who was a member of the singing group The Sheratons, moved to Australia in the 1960s and now lives on the Gold Coast.
He and his wife were living in Sydney at the time their custody battle began in the late 1990s.
When Tania was six months old, Ms Taikato offered to babysit her so her mother, Mrs Ransfield, could return to work.
The babysitting arrangement lasted two years, until Mr Ransfield said he noticed Ms Taikato was becoming possessive of his daughter. One day he told her she wouldn't need to babysit as he wanted to take his daughter to see a friend and Ms Taikato "snapped".
"It brought things to a head. I gave her a few weeks' notice and said to her 'from this day on you won't be looking after her'."
Mr Ransfield said at that point, Ms Taikato and Mr Nakhle started coming to the house insisting Tania was their daughter and wanting to take her away.
The Ransfields took out a protection order against Ms Taikato. She appealed to the district court but Mr Ransfield said the judge told them it was the "most bizarre case" he'd ever dealt with and threw the appeal out.
As the Ransfields were leaving court, Ms Taikato's lawyers handed them an order to appear in the Family Court to prove Tania was their child.
The Ransfields spent up to two years in the courts and $20,000 fighting to prove they were the parents - including taking the DNA tests to provide medical proof.
Meanwhile, Ms Taikato took a successful case against the Westmead Fertility Clinic after her embryos became infected and had to be destroyed. She was awarded A$15,000 in damages.
She wrote in a statement that one of her embryos had been stolen and implanted in Mrs Ransfield, Mr Ransfield said. However the claim was dismissed by Mr Ransfield.
"I have a letter from the doctor who saw Jennifer when she gave birth to Tania."
It took several court appearances over two years before another judge was appointed and threw the case out within a matter of hours, Mr Ransfield said.
After their legal win, he and his wife finally thought they were rid of Ms Taikato. They moved to the Gold Coast 10 years ago with Tania and their other daughter, now 14.
But last year Ms Taikato made contact with Tania via Facebook, sending her photographs from when she was a baby and telling her she was her real mother, Mr Ransfield said.
Ms Taikato also obtained Tania's cellphone number and started contacting her.
Mr Ransfield said he had shown his daughter the court files and all the evidence. "She knows that we are her rightful parents."
His daughter had now blocked Ms Taikato on Facebook and lost her cellphone so the former babysitter could no longer reach her.
But speaking this week, Ms Taikato said she would keep fighting to get Tania. She was "ready to go hard".
Mr Nakhle said he had a DNA test and although the sample was weak, he claimed it showed Tania was either his daughter or sister. Therefore she must be his daughter, he said.
"I do know that this child is mine ... There is nothing to sway me that she is not ours ... The truth is the truth. Eventually it will come out.
"All we want is the police to do their job and the federal government to do their job."
The Ransfields are in the process of taking out another protection order against Ms Taikato.
Mr Ransfield said all he wanted was for Ms Taikato and her partner to leave his daughter alone.
"I'm pretty angry. We were the innocent ones that had to pay the money to prove that child was ours."
For more articles from this region, go to Rotorua Daily Post