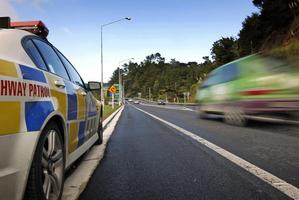 A coroner has praised the efforts of several motorists who tried to rescue a Southland teenager when his car plunged into a river.
William James Keast, 16, of Tokanui, died when his car left Tokanui Gorge Rd and rolled down a step bank into the Mataura River on the morning of December 15 last year.
His friend, Daniel Stronach, survived because he was flung from the vehicle and onto the river bank.
Gore coroner David Crerar, who today released the findings of an inquest into the death, praised the bravery of motorists who tried to save William, bringing them to the attention of the Royal Humane Society.
Coroner Crerar agreed with police that the crash was probably caused by a "momentary distraction" while William was travelling within the 100km/h speed limit.
William and Daniel were travelling from William's Tokanui home to Invercargill.
Daniel gave evidence that he was checking his cell phone but looked up when he felt the car "bounce and shake".
"[Daniel] recalls putting his hand to the roof of the car but nothing further until he 'came to', on his hands and knees, on the river bank next to the road."
He saw ripples in the river and thought the car must have gone into the water so he waved down a truck, and the driver called 111.
Samuel Powell was driving past when he saw Daniel come out of the willows adjacent to the river.
He was panicking and there was blood on his face.
Mr Powell saw another person, who had just arrived in a van, strip off and get into the river to examine the car.
He got into the water too, but they couldn't open any doors, and couldn't see the driver when they dived underwater.
Truck driver Greg Leonard stopped to help and attached strops to the submerged car.
He tried to winch it out but it caught an obstruction and flipped over onto its roof.
It was then established that William was dead.
It wasn't until another, larger, truck arrived that they were able to get the car out of the river.
Coroner Crerar found that William was probably knocked unconscious by the crash and was unable to free himself. He died from asphixia from drowning.
- APNZ