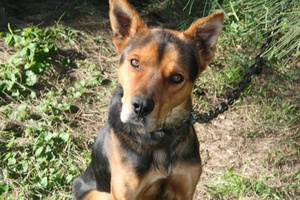 A young huntaway that was seized from its owner after becoming badly malnourished has bounced back in the care of a loving Bay of Plenty family.
Former owner Phillip Warral Kahotea, 26, was yesterday fined $750 and sentenced to 75 hours' community work after he admitted in Tauranga District Court to failing to adequately feed and care for the dog.
The port worker was also disqualified from owning another dog for three years.
He let Duke off his chain just a couple of times over a two-year period and fed him sporadically.
The charges came after an SPCA animal welfare inspector visited Kahotea's Te Puke property three times and found the malnourished huntaway tethered by a chain around its neck to running wire.
When the SPCA finally seized the dog in May this year he was malnourished, had no body fat and his muscles were wasting away.
Under the care of the SPCA his weight went from 14.8kg to 22.2kg and he was adopted by a Matua family in July.
When the Bay of Plenty Times visited Duke and his new owner yesterday afternoon it was obvious he had found a loving home .
His owner, a mother of three who did not want to be named, said she was looking for a dog and her daughter suggested the SPCA.
"When I went there they had lots of puppies and then I saw Duke and I thought he had such a hard time he deserved another chance. After thinking about it I decided to take him on week's trial and he just never went back. We just love him to bits.''
Duke's new owner said he settled in very quickly and had been great with the children, even sleeping on their beds - something their previous dogs had not done.
He was also great around the family cat and the animals at their Te Puna family farm, she said.
"Duke's just amazing. He's such a nice-natured animal and despite his background he's still loving towards people.''
The woman said since she had got Duke he had not been tied up.
"Although I bought a kennel in case we had to leave him at home, but he has never been in it - it's become the cat's house. Duke goes everywhere with me and just loves travelling in the car. He's just a softie, and he has a lovely, lovely soul. He's a bit special.''
The woman said she applauded the court order disqualifying Kahotea from owning another dog for three years.
"I don't know why people have animals if they can't take responsibility to care for their wellbeing.''
In court yesterday, Judge Peter Rollo said Kahotea's actions or inaction towards the dog were unfeeling, unkind and unacceptable.
"This offending seems to be the result of your indifference to your obligations to care for your dog, and quite frankly Mr Kahotea you should be ashamed of those failings,'' the judge said.
Kahotea was also ordered to pay vet expenses of $158.26.
Outside court, Tauranga SPCA inspector Jason Blair said he applauded the way Judge Rollo dealt with this case and hoped it sent a clear message to other dog owners that they risked prosecution if they did not adequately feed and care for their pets.
For more articles from this region, go to Bay of Plenty Times