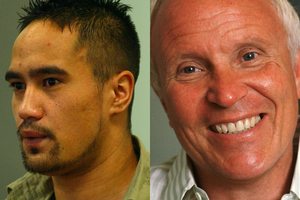 The man jailed for killing fashion designer David McNee in Auckland nine years ago is back in prison months after being released, facing an assault charge.
Phillip Layton Edwards, 32, was freed from prison with warnings that he was violent and had serious mental health issues.
When releasing Edwards, the parole board said: "The psychologist assessed him as posing a high risk of violent reoffending. The release proposal is that he would have mental-health-supported accommodation. That will be important to him."
Edwards had three months to serve of a nine-year sentence for killing David McNee in 2004.
He claimed he had been paid to perform a sex act upon himself, and McNee had violated a "no touching" agreement, sparking the assault.
The parole board raised concern about Edwards' mental health.
It set conditions for the first six months of his freedom which included staying at an address approved by the probation service, receiving regular psychological assessment and taking his medication.
"His risk is very tied in with the management of the various mental health issues."
The court charge sheet led the Herald to an isolated flat in a high-rise apartment block in central Auckland. Neighbours said the flat was used by the Department of Corrections.
The alleged assault happened a block from the flat - outside Auckland Central Police station.
Edwards was charged with assaulting his girlfriend and appeared in court on Monday. He was remanded in custody.
Auckland health board spokesman Mark Fenwick said staff were working with the parole board to make sure the conditions of Edwards' release were being followed.
It is the latest case involving mental health patients in Auckland's central suburbs.
A patient is facing a murder charge relating to the death of his flatmate in June. The accused had moved in with the man after leaving accommodation with a non-government organisation.
Figures obtained by the Sensible Sentencing Trust show mental health-related 111 calls to police almost doubled over nine years to 10,734 last year.