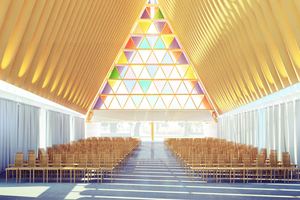 Christchurch's temporary "cardboard cathedral" moved closer to fruition yesterday with the delivery of the first cardboard tubes that will shape the A-frame building.
A shipment of 180 of the 320 6m tubes was handed over at builder Naylor Love's Middleton warehouse in front of a large media contingent.
Designed by leading Japanese "emergency architect" Shigeru Ban, the $5.3 million transitional cathedral is being constructed on the edge of the city's red zone cordon in Latimer Square. It will stand in for the badly damaged Christ Church Cathedral.
Cathedral spokesman Reverend Craig Dixon said it was "exciting" to see the tubes arrive, with concrete for the cathedral's foundations scheduled to be poured next week.
"It's been a long journey, coming a year and a half since we first contacted Shigeru Ban," he said. "Because it's such a unique build, there's a lot of engineering and architectural challenges ahead and a fair number of interesting aspects on the way."
Reverend Dixon said funding for the cathedral was still $1.3 million short and the Anglican diocese wanted to hear from "anyone who's as enthusiastic as we are about the cathedral".
"We're working on fundraising. We hope by the end of the build it will all be in," he said. "It's an interesting challenge."
Naylor Love project manager Stephen Lynch said the cardboard design was his "most challenging operation" in 25 years in the construction industry.
"It's an amazing concept and it's amazing engineering to get that concept to work."
Mr Lynch said he was looking forward to seeing the building rise.
"The last year has been a lot of work and now we're at the actual construction stage."
The transitional cathedral is scheduled to be completed by the end of February. The Anglican Diocese of Christchurch said it would be used while Christ Church Cathedral was being rebuilt and would then be the place of worship for St John's Parish.
- APNZ