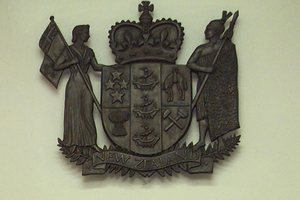 A young school tutor who came to New Zealand to see the Rugby World Cup has been jailed for sexually abusing students.
The tutor's name and the school where he worked have been permanently suppressed to protect the identity of his two victims.
The 19-year-old was sentenced to two years in prison after previously pleading guilty to four charges of unlawful sexual connection with a young person and two charges of attempting to do an indecent act to insult.
The High Court at Auckland heard how the tutor flew out from the UK last year when he was just 18 and took a job at an Auckland school in his gap year.
But after inviting one of the boys to watch television, the tutor exposed himself before doing other sexual acts.
One of the students complained and the tutor was approached by the principal.
Justice Pamela Andrews said she had read victim impact statements from both students, one of whom sleeps with a knife under the bed for safety.
She told the tutor she had received a letter from his mother explaining that he had been affected by deaths of close relatives.
Justice Andrews said the letter should be forwarded to the victims' families.
But she also said the tutor had been assessed by a probation officer as having a high-risk of re-offending due to his claims that his crimes had been initiated by one of the boys. He also reportedly denied part of his offending.
The tutor's lawyer Kathryn Maxwell said that reflected her client's "ongoing struggle'' in facing up to what he had done.
"Yes, he was older. Yes, he should have known better but in my submission, we are dealing with someone who was 18 at the time.''
Crown prosecutor June Jelas encouraged Justice Andrews to take into account the age gap and pointed out that the relationship of trust had been breached and the victim felt unable to say "no''.
In sentencing, Justice Andrews said she took into account the vulnerability of the victims and the premeditation involved.
But she also took time off the tutor's sentence because he was serving it in a foreign country and had pleaded guilty before trial.
"Your guilty plea spared your victims of an ordeal - and it cannot be described in any other way.''
The school's principal and board of trustees chairman both declined to comment.
- APNZ