Speed, driver fatigue and inattention causing costly, disruptive accidents, says authority.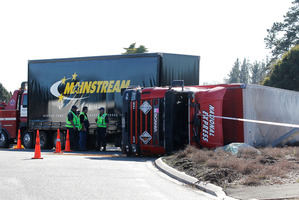 Four overturned trucks in just over a week have brought a warning to drivers to watch their speed, loads and fatigue levels.
Failing to drive to difficult conditions was a suspected cause of the latest incident in which a truck and trailer unit rolled on State Highway 3 just north of Te Kuiti yesterday morning.
"There's bad weather out there - it's windy and rainy - I think it's just a case of not driving to the conditions," said Senior Sergeant Rob van Kalden of the Te Kuiti police.
"Just a bit of driver error, going round a corner, getting into gravel and losing it."
Although no one was injured, the crash blocked the highway for about eight hours, meaning traffic was diverted through country roads.
The Waikato has also been the scene of two other trucks rolling, one on a new roundabout on State Highway One at Taupiri south of Huntly on Thursday and the other at Cambridge the previous weekend, when a milk tanker overturned and knocked down power lines.
Although no other vehicles were involved, the truck drivers suffered injuries and had to be cut from their cabs.
The most potentially serious crash was in the Manawatu on Tuesday when a petrol tanker overturned in the main street of Shannon, spilling 9500 litres of fuel.
Another driver is believed to have caused the crash, by colliding with the truck during a u-turn.
But Road Transport Forum chief executive Ken Shirley said it was "certainly alarming" that so many trucks had overturned in recent days, and the freight industry should take that very seriously.
"It's the last thing any operator wants, it has a huge cost, is a potential public safety issue, is very disruptive and is to be avoided as best you can," he said.
"Speed, inattention and fatigue are always the big ones in all accidents - we can't afford to cut corners."
But Mr Shirley said the engineering of many roundabouts was also a concern, and freight operators had suggested to him that the camber on the one at the centre of last week's Taupiri crash was wrong.
Automobile Association spokesman Mark Stockdale said it was "pure luck" that no other vehicles had been involved in the recent truck crashes, and he called for strong police enforcement of correct loads to ensure safe centres of gravity.