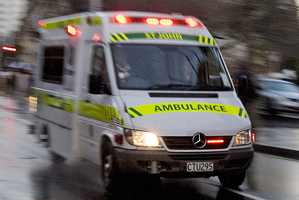 Police are still waiting to interview the man whose son drowned after his car rolled into a pond at Hokitika more than a month ago.
Mark Bowes has been in Christchurch Hospital since the incident that killed his nine-year-old son Tayne, police spokeswoman Barbara Dunn said.
Mr Bowes ran to call police after his vehicle rolled into the pond on August 12, and his daughter, eight-year-old Keira, was rescued from the submerged car by police officers.
"He's fairly pivotal to the whole [investigation], in terms of what happened," Ms Dunn said.
"At this stage ... we're going to have to be just governed by what's going on for him personally and when he's in a fit state to be interviewed."
Ms Dunn said examinations of the scene and Mr Bowes' car had shed little light on how the incident had happened.
At the time, police said the siblings were in the vehicle with their father, who had gone to his worksite at an Adairs Rd goldmine to refuel a pump being used to drain a pit.
The vehicle plunged over a bank and landed upside down in the water.
The father scrambled out in the dark and ran about 3km for help.
Police officers who later arrived at the scene described the event as "bittersweet" for the family, finding one child alive and the other dead.
"At this stage we haven't established that there is criminal liability or not," Ms Dunn said.
"It is an investigation [and] whether or not criminal charges come out of that we just don't know until we ... have that conversation [with Mr Bowes] and work out what exactly happened."
Ms Dunn said police could not comment on the specifics of Mr Bowes' illness.
It is not known when he is expected to be well enough to be interviewed by police.
- APNZ