Mystery illness strikes woman on holiday in Samoa with family and friends Waikato.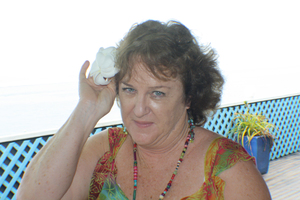 A mystery infection killed a Hamilton school teacher within days of falling ill while on holiday in Samoa.
Justine Cameron, 62, was on the island of Savaii with her husband John and a group of 10 family and friends for her brother-in-law's 60th birthday when she came down with flu-like symptoms.
Her death has shocked her family and those who knew her through 40 years of teaching. Most recently she was an English teacher at Hamilton Girls' High School.
Before that, she taught at Hillcrest High, Cambridge High and Te Kauwhata High and had been deputy principal of Waikato Diocesan School for Girls.
The symptoms began on Friday, September 7. Complaining of back pains, Mrs Cameron took over-the-counter flu medication and spent the next day in bed at Le Lagoto Resort.
By Sunday morning, Mr Cameron became concerned as he noticed his wife's stomach was distended and her pain had increased.
She was taken to local medical facilities and then flown by helicopter to Apia Hospital when her condition worsened.
Doctors were unable to find the source of the infection, however, and Mrs Cameron's condition deteriorated on Monday. She suffered organ failure and cardiac arrest and died at 12.30am on Tuesday.
"If I want to beat myself up I can, by saying, 'Should I have gone to the doctor earlier?"' Mr Cameron said.
"But she never got sick, so the first 24 hours I just thought it's a flu bug, it's a pretty nasty one, but I've had the flu once in my life and I realise it's quite nasty when you get it."
The group returned to Auckland on their scheduled flight on Tuesday afternoon with Mrs Cameron's body.
The family have requested a post-mortem examination to find out what caused the infection.
Mr Cameron said he would "miss her presence", the plans they had and their shared interests in music, theatre and travel. "She was really bubbly ... She had a strong personality and she was colourful. She was direct and forthright, very loving, very supportive of her grandchildren."
Hillcrest High principal Kelvin Whiting said Mrs Cameron was a well-respected teacher, a really hard worker who kept her students' best interests in mind.
A celebration of Mrs Cameron's life will be held today at 11am in the Gallagher Academy of Performing Arts at Waikato University.