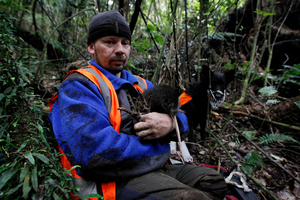 Providing kiwi and other rare native species with a predator-free habitat is costing Waikato ratepayers $10 million-plus.
Supporters of the ambitious 3400ha Maungatautari Ecological Island Trust say the $26 million spent on the wildlife sanctuary - the first in New Zealand, ringed by a 42km pest-proof fence - is a worthy investment to protect kiwi, takahe, hihi, yellow-crowned kakariki and other endangered species.
However, critics fear ratepayers will continue to be lumped with the bill, which should have been picked up by corporate sponsors scared away when a controversial new governance structure was introduced in 2010.
The project's two local government funders - Waikato Regional Council and Waipa District Council - have invested $5.94 million in the sanctuary since 2004, according to information provided under the Local Government Official Information and Meetings Act. The councils have committed almost a further $10 million to the project in the next 10 years.
The Department of Conservation has also contributed $900,000 in the past three years towards the island's $1.5 million annual operating costs.
The councils' and DoC's costs escalated when landowners opposed the change in governance, which they felt gave unfair preference to iwi, and eventually blocked access to the fence from their properties.
Equal representation was reinstated last year to resolve the issue but four landowners are still refusing access to the fence.
Greg Martin, Waikato conservator and one of the trust's founding trustees, said DoC's extensive investment had contributed to an "internationally significant conservation project".
But former trustee Fiona Judd, removed from the trust in 2010 when she opposed the governance change, feared ratepayers and taxpayers would continue to have to cover the shortfall.
The trust had shut itself off from $600,000 a year in operational funding and $4 million in capital funding from corporates because of the governance issues.
"Their [the trust's] vision for the project encompasses only the idea of a community-funded project. They have lost the faith of numerous corporate sponsors ... Therefore they have missed out on big money, but they are happy for the shortfall to fall back on ratepayers and taxpayers."
Trust co-chair Tony Wilding said it was aware the councils couldn't go on funding it forever and a new visitor centre due to open at Christmas was part of a plan to bring in revenue and boost tourism.
Adding up
* $26m - total spent on the island to date.
* $4.3m - from Waikato Regional Council.
* $1.7m - from Waipa District Council.
* $900,000 - from DoC.
* $1.5m - annual operational cost.
* $14-16m - to build fence.
* $1m - on new visitor centre.
* $50,000 - annual cost of staff to monitor fence where surveillance wire has been cut.