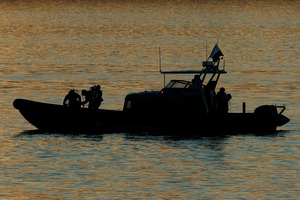 The search is being wrapped up this evening for two people and their fishing boat, the Governor, who have been missing off the coast of Fiordland since last night, police say.
The skipper of the vessel, the Governor, 60-year-old Kevin Cosgrove of Dobson, and crewman, 16-year-old Nirvana Drew Reynolds, of Blackball, were last seen yesterday about 11.30am.
They had told another boat about their fishing net becoming snagged north of the Milford South mouth, near Yates Point.
An empty life raft has been found and a fuel slick has been seen a few kilometres from the mouth.
A plane searched from Poison Bay to Yates Point but failed to find anything of significance, she said.
The fishing vessel Amazon is currently working through the debris to see if it contained anything of interest.
Senior Sergeant Cynthia Fairley told Newstalk ZB the prospects of finding the pair alive were "grim''.
"At this stage they have come across fish bins and pieces of wood,'' she said.
Ms Fairley added that the search would be scaled back tomorrow to a limited area.
Teams from Invercargill and Te Anau were coordinating the search and rescue operation and they would decide on whether to use the police dive squad to look for wreckage, which could be 40 metres deep.
Ms Fairley said they would need to consider the location, depth, tidal movements and the weather.
"Our thoughts are with the families of the missing men at this tragic time,'' she added.
- APNZ