Lethal gas in easy reach of kids.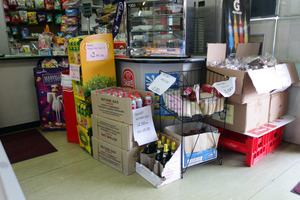 Shopkeepers are being advised to think hard about where they display products which can be abused by, and sometimes even kill, kids.
The Herald on Sunday spotted one dairy selling boxloads of lethal butane gas for just over $2 a can alongside pies and juice. On pointing it out, the owners restricted its availability.
The Bridge Mini Mart in Mangere Bridge had trays of the gas, known to be "huffed" by teens, for sale next to snack items at the front of the store.
The cans were being sold for $2.50 each but four cans could be bought at a discounted $9.
"They are there because it is convenient. We sell a lot of them," said shopkeeper Amanda Sun. "But we don't sell them to children."
But, after being alerted to the dangers of the gas, the Auckland store has limited stock to a small number behind the counter.
The shop was popular with children from a nearby primary school and was near a bus stop for intermediate and high schools.
A parent at Mangere Bridge School was angered to see the gas displayed so prominently.
"They are the first thing you see when you go in the shop and are at the front with lollies and food. They should be in a restricted area or at least where people have to ask for them," said the woman.
"We would hate for any of the kids from around here to get hold of them."
Other shops in the area sold the same product but it was displayed near lighters and lighter fluid.
Chief coroner Neil MacLean recently said there had been more than 60 deaths in the past 12 years because of huffing.
Those figures include Darius Claxton, 12, who died in a New Brighton carpark in May and Poihaere Eru, 17, who was found dead last month in Riccarton with 16 cans of butane she had shared with two friends aged 14 and 16.
New Zealand Drug Foundation chief executive Ross Bell said more parents needed to pressure shops to be more responsible with the butane.
"You have to wonder why the corner dairy, and not camping shops or hardware stores, are selling these items," Bell said.
"Do they think there is an active camping community around or are they just happy to sell anything to make a buck?
"I think it is the latter."
This week, the foundation launches an awareness campaign aimed at parents, teachers, police and community groups. They are being asked to check shop displays and to help educate others about the dangers of aerosol products such as spray paint, hairspray, deodorant, fly spray and cooking oil.
Other products of concern are glues and adhesives, lighter fluid, methylated spirits, paint strippers and thinners, degreasers, nail polish remover, correction fluid, cleaning products, petrol, butane, propane and LPG.
Chain stores such as The Warehouse and Mitre 10 had restricted access to harmful items and did not sell them online.
The drug foundation has set up a website for retailers that also has useful information for parents and teachers: www.volatilesubstances.co.nz