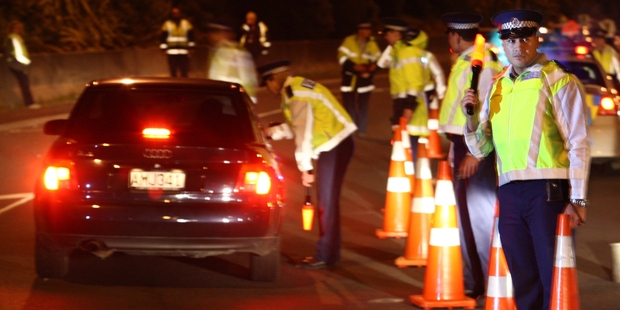 Trespass notices for 100 motorists
Car enthusiasts have been banned from Auckland petrol stations in a police sting aimed at stopping illegal street racing from making a comeback.
The list of prohibited properties is three and a half years old - though it has been updated since - but some petrol station managers told the Herald on Sunday they were unaware police had issued their customers with trespass notices.
Car enthusiast Daniel Cyckoma said police officers swooped on their weekly meeting in the carpark of KFC and McDonald's on Quay St, Auckland, about 11pm on August 31.
He said 10 police cars blocked the exits and about 20 officers inspected the vehicles for registrations, WoFs and illegal modifications.
"We were blocked in there until 4am. They let cars out one by one," said Cyckoma.
About 100 trespass notices were issued which banned drivers and passengers from 11 specific petrol stations in Manukau, Dairy Flat, Parnell, East Tamaki and Avondale. They were also banned from businesses including Beaurepairs, Smith and Smith Glass and Subway.
"It's just ridiculous, we don't even know where some of those places are," said Cyckoma.
He said the meeting was purely for self-confessed petrol heads to show off their machines, which ranged from muscle cars to high performance vehicles.
He said some people drank alcohol and littered food wrappings and booze bottles in the carpark. But, he claimed, there were no illegal street races, burn-outs or disorderly behaviour.
When the Herald on Sunday contacted the petrol stations, most managers were unaware of the trespass notices.
BP manager David Joshi, of Cavendish Drive in Manukau, said there had been a lack of car enthusiasts buying petrol at his station.
"These people need 98 petrol so there will be a loss of potential customers but what can you do?" Joshi said. "We will see how our sales drop, if they do. It could be a worry."
However, BP's corporate spokesman Jonty Hill said the company was aware of trouble with street drags in the area and was assisting police.
Z manager Daljinder Singh, of Wiri Station Rd in Manukau, said he didn't have a problem with car enthusiasts.
"I didn't get any letter or notice from police," Singh said. "The nightshift guy has never told me of any [problems]. There should be a reason behind (the trespass notice)."
One station owner, Helen Lu of Gull Night and Day on Rosebank Rd in Avondale, said she asked to be put on the trespass list after she was burgled.
"For the past year we have let them park here without any issue, but three weeks ago one van stole stuff and made a mess," said Lu.
Counties Manukau police Sergeant Mark Fleming said he had signed authority from the occupiers of the listed petrol stations.
He said the list of properties was originally compiled three and a half years ago when boy racers were running amok on service station forecourts.
"It was a huge problem which went from 300 cars congregating to absolutely nothing at these sites and that continued for two and half years, as long as the trespass notice lasted," said Fleming.
"But once it expired they started sneaking back again so we have decided to adopt a prevention first approach."
Fleming said the bulk trespass notice would prevent motorists moving to other locations where historically illegal activity took place.