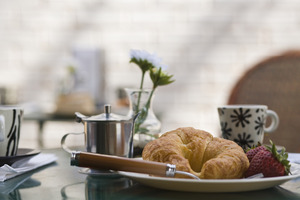 Two people were arrested last night after a cafe in Whitianga reported a woman attempting to obtain money by falsely claiming she had suffered food poisoning.
The arrest followed similar reports from Thames on Friday where a young woman had approached several cafes claiming that she had eaten there and fell sick afterwards. Some businesses paid her a refund in cash.
The eateries later realised they had been ripped off but, by the time police arrived, she had left town.
The overweight and tattooed female - who told people she was pregnant - left Brew Cafe owner Sam Lamb $68 out of pocket after a visit. She had called herself "Lisa Smyth" and claimed her sickness had been caused by the chef's poor hygiene.
The alleged conwoman told staff she had recently eaten the fish of the day dish with three others and they had all become sick 12 hours later.
It was the same story at every Thames business the woman had visited.
A 26-year-old Auckland woman has been arrested in connection with the incidents and will appear in the Thames District Court next week charged with fraud offences. An Auckland man, 30, has also been charged with assisting her.
"We are aware that this couple have travelled to Thames, Whangamata and Whitianga," a Whitianga police spokesperson said last night.