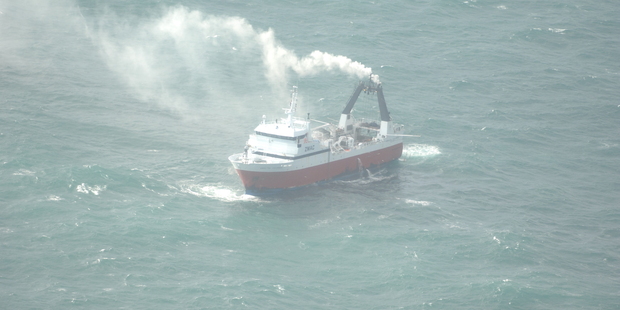 Fire crews have worked throughout the night to control a blaze on board a fishing boat in Lyttelton harbour.
Nearly 24 hours after the fire began, forcing the 43 crew to abandon ship, firefighters gained control of it about 4.30am today.
A Transport Accident Investigation Commission (TAIC) investigator will this morning begin an inquiry into what started the fire in the meal hold at 5.24am yesterday.
The New Zealand-flagged Amaltal Columbia, owned by Talley's, was pulled into port just after midnight, Assistant Area Commander Dave Berry told APNZ.
He said four fire appliances and 16 crew were at the scene through the night, with four firefighters at a time battling the blaze.
They were now dampening down hotspots, he said.
The fire was contained very well but the hold was "heavily smoke-logged".
Mr Berry said a boom had been put around the boat as it was put up onto the dock and there was no sign of oil leakage.
He said it was one of the most difficult fires to put out for the team.
"There are small passageways and confined spaces with a factory within the ship itself. And you've also got to think if you're putting water on the boat for putting out the fire, the stability of the ship itself."
Fire crews were winding down now, he said.
The TAIC will begin interviewing company officials and the crew, the commission said.
The Commission said its inquiry, expected to take up to a year, would try to find the cause of the fire, identify ways to prevent it happening again, and review the way the situation was handled on board and during the rescue and recovery operations.
The crew, who were picked up by nearby vessels after the fire broke out in 64-metre trawler, arrived in Lyttelton yesterday afternoon.
The Nelson-based factory trawler was 85km off Lyttelton Heads when the fire broke out.
- APNZ