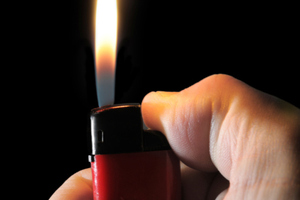 A teenager accused of dousing another boy with petrol then setting him alight has been found guilty causing grievous bodily harm with intent.
A High Court jury at Napier returned a unanimous verdict this afternoon against Matt-Dillion Shannon, 18.
He was remanded for sentencing on October 15.
The 16-year-old victim, who is now 17, was doused with petrol at Shannon's 17th birthday party in August last year. The court heard the victim was held down by others while Shannon set him alight. The victim suffered serious burns.
The jury of seven men and five women took four hours to reach their verdict today.
Shannon had earlier pleaded guilty to a charge of causing grievous bodily harm with careless disregard. But he denied causing grievous bodily harm with intent.
Shannon had told the court the victim was held down for five seconds after the fuel was lit in a birthday party prank gone wrong.
In his police interview played to the court yesterday, Shannon admitted the victim was held down by others but said only a shot glass of petrol was poured on him before he was set on fire.
The victim told the court on Monday the fuel was poured from a petrol can.
In a second police interview played to the jury, Shannon had voluntarily returned to amend his version of events. In the interview he admitted the victim had been held down by others when he set him on fire.
On the stand, Shannon said a shot glass was filled from an almost empty petrol container as a joke for someone to drink - but no one accepted the dare.
The idea to pour it on the victim and light it came from the Jackass movies and he expected the flames to be easily extinguished.
He said the victim was held down for about five seconds after he was set alight, not the 20 seconds as had been claimed.
"He wouldn't have been held any longer than five seconds once it was alight," Shannon said.
"The way I see it is, if he had been held down for that long [20 seconds], surely someone else would have been burnt."
Shannon expressed his regret over the incident, telling the court: "If I could take it back, I would in a heartbeat. I can't even describe how stupid it was, but there is so many things that I wish I could take back, and that would just take the cake."
In his closing, crown prosecutor Russell Collins said the victim had been subject to bullying.
"It was pack mentality, that's what it was," he told the jury.
"Yes, it was stupid. But because it was stupid, it doesn't mean it wasn't intentional."
Defence lawyer Bill Calver reminded the jury they had to be absolutely sure of Shannon's guilt.
"This was about the most stupid practical joke you could imagine, but it was nevertheless intended as a practical joke."
- APNZ