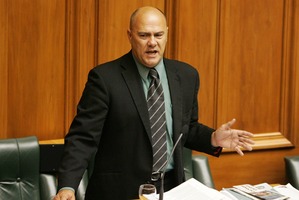 National MP Tau Henare has not given up on his bid to be the next Speaker despite Prime Minister John Key's lack of enthusiasm for the idea.
Mr Henare this week launched a bid to take over as Speaker after Lockwood Smith is appointed as High Commissioner to London, expected at the end of the year.
Mr Henare yesterday conceded it did not look as if he had Mr Key's support for the role - but believed he deserved a chance.
"At the end of the day, some people didn't think he was going to be a good Prime Minister and he's turned out to be a wonderful Prime Minister...It's up the votes in the House, but I've got as good a chance as anybody else."
Asked about Mr Henare's ambition for the job, Prime Minister John Key said the Government had not yet decided who its nomination might be.
"Lots have ambition, but there has to be a role and the Government has to consider a range of different issues."
He said any nomination the Government put forward had to meet two criteria:
"Whoever the person is, I would have to believe could do the job, and would be accepted by the bulk, hopefully, of other parties."
Mr Key said he had "sounded out" some Cabinet ministers about the job, but had not yet spoken to other political parties because there was no vacancy to fill.
Asked if Mr Henare should be openly campaigning for the role, Mr Key said he was not sure if Mr Henare was campaigning.
"You never know with Tau."
One of the Ministers Mr Key had spoken to was David Carter, who said yesterday he would consider it if the Prime Minister asked him to do it. Asked whether he would prefer to be a minister or the Speaker, Mr Carter said he greatly enjoyed his ministerial roles and believed he was doing a good job.
Asked if Mr Henare would make a good Speaker, Labour MP Trevor Mallard said he would be an "interesting Speaker." Mr Mallard once fought in the lobbies with Mr Henare, but said he admired Mr Henare's ambition.
"I can't imagine him getting out of the chair to chase me, but doing a round with the Speaker would have a different meaning, wouldn't it?"
Mr Henare also got some support from his former leader - NZ First leader Winston Peters - who said Mr Henare was preferable to some of the other contenders.