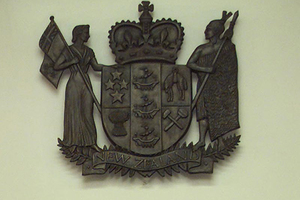 A man who kidnapped and beat a friend, before the victim was taken to a home-made torture chamber, has been found guilty of the attack.
Peter Moore has been on trial at the Wellington District Court this week after he pleaded not guilty to kidnapping Samuel Smyth and injuring with intent to injure.
A jury of 12 this afternoon returned a guilty verdict to both charges.
Moore was remanded in custody for sentencing next month.
In summing up the case this morning, Crown prosecutor Alice McCubbin-Howell said on the night of May 22 last year Moore and another man, Tristan Joseph Thompson, went to the Wainuiomata Rugby Football Club where they approached Mr Smyth.
Thompson wrapped a scarf around Mr Smyth's neck and led him to Moore's car, she said.
The pair then bundled him into the vehicle and drove him to Moore's house.
For two and a half hours they subjected him to a "prolonged assault'' which involved kicking and punching.
Ms McCubbin-Howell said Mr Smyth considered Moore and Thompson his friends, and Moore had let Mr Smyth live at his place.
But Moore "was angry'' because Mr Smyth owed almost $500 in rent and stole property, including marijuana.
"He wanted payback and he wanted to punish Mr Smyth. He wanted to hurt him.''
Thompson also thought Mr Smyth had broken into his house.
Thompson has pleaded guilty to his involvement, which also included leading Mr Smyth to a makeshift torture chamber at his house the next morning.
Thompson and another man then allegedly used weapons including razor blades, screwdrivers, hammers, vice grips, a blow torch and darts to cut into the victim's skin.
Moore was not charged in relation to this incident.
In summing up for Moore's defence, lawyer Keith Jefferies said Moore admitted he assaulted Mr Smyth, but a charge of injuring with intent to injure was too elevated.
"The level of assault that Mr Moore committed against Mr Smyth is probably what you see every day or every weekend at a rugby match in New Zealand. It's the sort of thing you get a yellow card for.''
If Moore had been charged with assault he would have pleaded guilty, Mr Jefferies said.
He said Thompson was a sinister person and the "atrocities'' he committed against Mr Smyth were done when no one else was around.
Mr Smyth never said that Moore assaulted him and Moore was adamant that he did not kick Mr Smyth, Mr Jefferies said.
He said Mr Smyth initially did not want to get into the car, but then agreed to it.
"It's not a real kidnapping.''
Moore said he just wanted to find out why Mr Smyth had betrayed him.
- APNZ