Got photos or videos of the bad weather you'd like to share?
Email us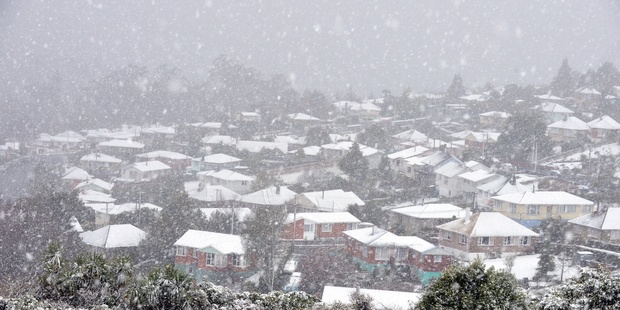 The Rimutaka Hill Road and the Desert Road have reopened after snow forced their closure this morning.
The NZ Transport Agency (NZTA) said the Rimutaka Road reopened late this morning, and the Desert Road has been open for traffic since about 10am.
NZTA Wellington operations manager Mark Owen said crews had worked hard all morning to clear snow from the Rimutaka Road and this had enabled the NZTA to reopen the road earlier than expected.
"Light snow is still falling and safety remains paramount, so we'll be keeping a very close eye on conditions, and we urge motorists to drive with care and to the conditions.''
Mr Owen said crews would continue working on the road throughout the day, and motorists should allow time for delays.
This morning's cleanup area extended to Featherston, he said.
"We're grateful to motorists for their patience during this unseasonable blast - it's caused a lot of disruption and people have been very understanding.''
Snow was expected to continue falling until about 3pm.
WeatherWatch.co.nz said conditions had cleared in the west as winds turned southerly.
Growers and orchardists were advised to be prepared for frosts tonight and tomorrow; some may be heavy in Southland.
Motorists in the south of the South Island should also be aware that black ice could affect some roads and highways on Thursday morning.
The weather system was considered to be a classic spring storm and is not a sign that winter weather was returning, WeatherWatch said.
MetService forecast the snow to ease in the South Island, but more snow is expected in the central North Island.
A heavy snow warning remains in place for the central North Island ranges, from Taihape to the Kaweka Range of Hawkes Bay to northern Manawatu.
Otago residents were urged to take care on roads this morning, with temperatures forecast to drop close to freezing and rain and snow expected to turn to ice.
MetService meteorologist Daniel Corbett said in inland areas, including throughout Central Otago, snow showers would ease as the day wore on.
Police were warning motorists to avoid unnecessary travel around Dunedin today, following a spate of minor crashes last night.
Mr Corbett said the cold southerly would slowly spread north.
Snow on the Kaweka Range, that runs from Taupo to central Hawkes Bay, could exceed 20cm, he said.
"Above 800m could look rather white because there is a fairly active trough sweeping up the east coast, thats's going to sweep up much of the North Island overnight, so could bring potential for 20-25cm of snow above 800m.
"At sea level, there is just going to be a rather cold start to the day, though this should slowly get back to regular spring-like weather for Thursday and Friday.''
Hawkes Bay farmers were again advised to move stock into sheltered paddocks, and growers were told to beware of frosty conditions.
Rural areas could expect afternoon showers, particularly heavy in coastal areas, with hail. More snowfall above 300m, cold southwesterlies and frosts were also expected to continue.