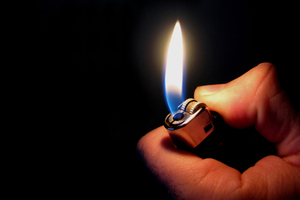 A teenager accused of dousing a younger boy in petrol and setting him alight said he thought the flames would be easily extinguished.
Matt Dillion Shannon, 18, is on trial in the High Court at Napier charged with grievous bodily harm with intent to cause grievous bodily harm over a "jackass''-style prank that went wrong at his birthday party last year.
In his police interview played to the court today, Shannon admitted the 16-year-old victim was held down by others but said only a shot glass of petrol was poured on him before he was set on fire.
The victim told the court yesterday the fuel was poured from a petrol can.
In a second police interview shown to the jury today, Shannon had voluntarily returned to amend his version of events. In the interview he admitted the victim had been held down by others when he set him on fire.
On the stand, Shannon said a shot glass was filled from an almost empty petrol container as a joke for someone to drink - but no one accepted the dare.
The idea to pour it on the victim and light it came from the Jackass movies and he expected the flames to be easily extinguished.
The trial continues.
- APNZ