Locals are calling proposed development in Waihi a man-made disaster.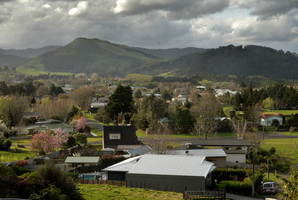 Looking out over his secluded Waihi backyard, Chris Hallums sees a property he reckons would fetch as much as $2.5 million if it were in Parnell.
There's an old woodburner on a brick stack, a workshop, a gazebo ringed by a pond and a roomy sleepout a few metres from his elegant, renovated 1906 villa.
It's all been on the market since April, the second time he's tried to sell it.
"It's got absolutely everything going for it ... except for where it is."
Over in the eastern side of town, Gail Dragicevich stands on her back patio, where a separate cottage stands before a well-kept little garden and a spacious double garage.
"We bought it for $325,000 in 2007 and we've put about $15,000 into it. Today, we'd be lucky to get $290,000 for it."
Mr Hallums and Mrs Dragicevich did not want the Herald to photograph them or their homes, feeling they already had enough negative stigma in dealing with the big mining programme they say has kept them from selling.
A local real estate agent compares the fall-out of the Christchurch earthquakes to the property market in Waihi since Newmont Waihi Gold announced its Golden Link programme, which could extract more than $1 billion of gold and silver.
The first part, involving exploration beneath the enormous pit 120m away from Mr Hallums' house, was opposed in the Environment Court last month.
A public submissions period has just opened for the other part, a new underground mine under an area in Waihi East, which would directly affect nearly 50 homes.
Collette Spalding, who runs a residents' group, says the figure is closer to 80.
She tells stories of homeowners unable to refinance, insurance companies pulling out, elderly widows stuck and how one family who managed to sell had a garage sale to make up cash on their lost value.
When Mr Hallums came to Waihi in 2007, he was told the open-cast gold mine near his home would be filled with water to become a lake. It never happened.
The house has been subjected to shakes and its value has been so compromised he says he would be lucky to take a $100,000 hit.
The only happy ending he can see is the mine-owner buying him out.
"One day, when we'd had three months of flat-out easterly winds and it was too noisy to be out in the garden, I just rang them and told them to bring round their f***ing chequebook."
In March, Newmont introduced a top-up scheme under which it makes up the difference to restore market value to homes for sale in the affected areas.
But Harcourts agent John Wilson said these deals had been hard to put together, and some had fallen over after buyers' lawyers advised them to pull out.
Agents would be meeting Hauraki Mayor John Tregidga and mining company representatives next week.
Mr Wilson said the market had suffered and recovered after a house above a mine in Mrs Dragicevich's street sank 15m into the ground in 2001.
"It's just unbelievable, it is an absolute nightmare for us. Christchurch was a natural disaster - this is a man-made one."
Newmont external affairs manager Sefton Darby cited the figures - 16 property sales in Waihi East in 2010, and in the past five months, 12 homes approved for top-ups, with eight sales either completed or nearly completed.
QV figures showed the E-Valuer price change for Waihi shot up by 6.9 per cent in the three months to June, though this were not the result of top-ups.
"Contrary to the belief put about by various real estate agents and various MPs that somehow the real estate agent in Waihi has suddenly disappeared, what is showing is that houses are selling, and selling for good prices,"Mr Darby said.
Newmont was willing to consider providing top-ups for private sales, but only if they had been actively marketed for six months.
The company had offered to buy out a limited number of affected houses each year, but wanted to see people owning their own homes in Waihi East.
An independent review panel would be looking at its property policy.
Mr Darby accepted there were some worries but pointed to the economic stimulation the mine provided Waihi.
"There's the negative stigma, people worry about mining, but the other stigma people worry about is, is this a town with a lively economy, jobs going and demand for housing? The answer is all of that."
The Newmont Plan
* Is a two-part mining project, including an expansion reaching up to 350m below an area in Waihi East.
* It will explore beneath the existing Martha open-cast mine across town.
* Gold and silver that could be worth more than $1 billion will be extracted.
* Up to 600 homes in Waihi East will be affected, including 50 directly affected.