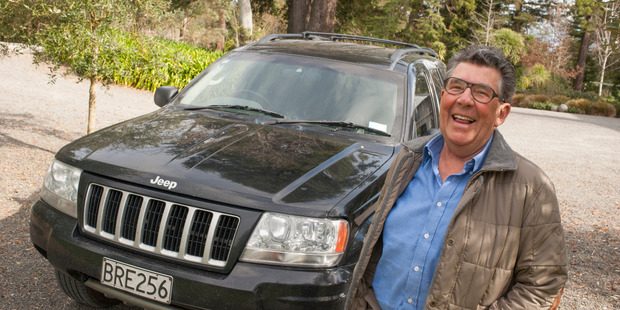 Broadcaster Paul Holmes had his four-wheel-drive stolen this week when he left the keys in it, but he got it back within two hours - with a full tank of gas.
Holmes has been recuperating at home in Hawke's Bay since an open-heart operation in June. The latest drama was on Wednesday when he had his Grand Jeep Cherokee stolen.
"I had just been to the cardiologist and he had prescribed me the usual pounds of pills and I parked at the pharmacy. I do admit I left the keys in it, and when I came out about 10 or 15 minutes later I was looking at Scotch mist," he said.
"I walked up the street and thought, 'no I'm not going mad, that's where I parked the car'. I walked back and I heard a voice say 'Was that your black car'?"
A witness came from across the road and said he saw "two little buggers" take the vehicle.
"I got a description from him that one of the boys was wearing a red beanie and army pants. I called police and they asked me how much fuel I had. I told them I had a quarter tank."
He headed home and was only there 30 minutes when the good news came in. "I got a call from the constable in Napier saying the car had been located on the Napier to Taupo road and the two young offenders were brought into custody."
The police had been called by a service station attendant in Napier, saying the pair had filled up the car with $150 worth of petrol and driven off without paying.
An alert went out to police, who suspected it would be driven a long distance.
"It was a wonderful piece of policing and I'm very grateful to the Hastings and Napier police. I got the car back with no damage," Holmes said. "Everything in it was gone but nothing too valuable.
"It had all my heart operation records in the car but I can get duplicates of that. The best part is, I have a free full tank of gas."
He said he had learned a lesson about locking his car.
Hawke's Bay police Sergeant Eden Sewell said the petrol station tip had been the key.
"They left without paying and the guy from the service station called in and one of our units doing a patrol found it in Esk Valley," he said.
An 18-year-old, who was driving the car, was charged with unlawful taking of a motor vehicle, theft and driving while disqualified.
He will appear in the Napier District Court on Wednesday.
Holmes will be back on the airwaves this month following the surgery to remove a blockage and to carry out remedial work on his heart. He was put on life support in an induced coma to help his recovery and returned home in July to recuperate.