Experienced workers reaping the rewards.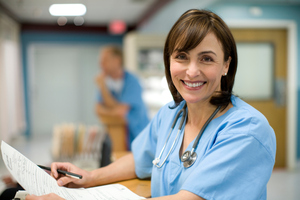 Graduates with hefty student loans will find the Australia job market tempting. Salaries are 20 per cent higher on average, qualifications are the same and no visa is required.
Kiwi novices prepared to travel to more remote areas will find themselves in greater demand - but they'll be competing with eager Aussies.
A lack of staff in the last decade compelled the Federal Government to double the places in medical schools to about 3000. The result is a short term over-supply of junior doctors. It's the same with junior nurses. Further out the picture isn't so rosy: while the supply of doctors is headed for balance, Australia will be short of 110,000 nurses by 2025.
Health Workforce Australia chief executive Mark Cormack says the biggest shortages are in remote Queensland, Western Australia and Northern Territory. He says there's a particular need for doctors in rural areas, experienced officers and GPs. Specialists in psychiatry, obstetrics, pathology and radiology are required, as are nurses in aged care and mental health.
The general manager of medical recruitment firm Triple0, Andrew Arps, says Western Australia and Northern Territory offer the biggest salaries; graduate doctors can generally earn around $100,000 a year and specialists up to $400,000. Registered nurse positions range between $78,000 and $130,000.
Arps says the biggest trend he's noticed is Kiwis heading across the ditch as locum doctors. "They can earn 100 per cent more."
The director of healthcare at recruitment agency Randstad, Christine Curphey, says employment conditions are more generous in Australia, although each state offers its own bargaining agreements, so conditions vary. Perks include relocation help, educational and travel allowances, extra leave and sometimes free or subsidised accommodation.
Curphey says the average age of health force workers is 43.7 years, creating demand for younger people.
The health care and social assistance industry is the third-biggest employer of Kiwis in Australia.
The report suggests fewer younger Kiwi health professionals work in Australia because job opportunities and rewards there increase as skills develop at higher ages. That's something Peter Satterthwaite can vouch for. The former chief information officer for Wellington's Capital and Coast Health Care, is now director of medical services at Adelaide's Queen Elizabeth Hospital.
"It felt like my career was idling along in New Zealand but this gave it a major boost. There's more structure around the role in Australia. It's an extension of what I was already doing."
He says his experience proved valuable because reforms introduced in Australia mirror those in New Zealand in the 1990s.
Satterthwaite is particularly impressed with having 10 days each year for professional development and with Australia's super scheme.
Former Dunedinite Naomi Dunning has worked at Adelaide's Flinders Emergency Centre since 2005. She graduated with a Bachelor of nursing from Otago Polytech in 2004. The clinical emergency nurse was one of 65 graduates who found work in Australia - there were 86 students in her final year.
"Otago District Health told us if we were young and had no ties to go to Australia and leave the NZ jobs for people with families. I was surprised and frustrated. I thought they'd take the best applicants for the job. It was like they felt if you had ties you'd be more likely to do your graduate year and stay for longer."
She was "tripped up" when she reached Adelaide, realising she needed six weeks bond to rent a house - but found the city friendly and hot. The adjustment was made easier with five of her Kiwi classmates moving into the same street. The group quickly found a pub that screened rugby. However, Dunning says the job was an "eye opener".
"Nurses don't have as much autonomy as in NZ. We weren't allowed to put tubes into people's stomachs or take blood."
Once she moved to emergency she says there was more of a partnership between doctors and nurses.
Dunning is grateful for her NZ training, which she claims put her on a better footing than Australians at the same level. "We seem to be better qualified and more experienced."
Paediatric nurse at Starship Children's Hospital Heidi Brookbanks has been tempted to move, but family commitments have held her back. During the final two months of her nursing degree in 2009, two of her colleagues were interviewed by phone and offered jobs the same day. She says at least half of advertisements in nursing magazine Kai Tiaki are for Australian positions, many in the Outback. Brookbanks' colleagues travelled to far-flung Aboriginal communities for several months.
"It's a bit of a life sacrifice because there's nothing to do. You could be five to six hours from the nearest community, but all your living costs and food are paid for so you can save 100 per cent of what you earn."
For a young person, it made it possible to "build up a nest egg" and put a deposit down on a house.
Clinical mental health nurse at Queensland Health in Longreach, Jonni Schoone, moved from Northland five years ago. He wasn't put off by living in the middle of nowhere. "Some people hesitate at the thought of being in an isolated location but the level of support I receive is tremendous, from the community, my team leader and my colleagues."
Schoone says the long travel times are a "bonus".
"I am rewarded every day by providing care to people in remote places that may otherwise have missed out."
Physiotherapist Nicola Khamis moved from Auckland to Queensland in 2008. She specialises in oncology and palliative care at Redcliffe Hospital and says she now has the best of both worlds: "family and career".
While living in New Zealand she worked full-time for a district health board during the week and some weekends for a private hospital. "Higher salary was one of the key reasons we made the move. By earning more I am able to work four days a week, which allows me more time and energy to spend with my family."