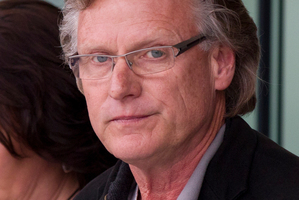 A financial adviser is behind bars after admitting stealing $4.7 million from investors, many of whom were family and friends.
Evan Paul Cherry was remanded in custody after pleading guilty to two charges of theft and two of misleading investors yesterday.
His lawyer told the North Shore District Court there was nothing left to repay investors - one of whom said last night he would lose his house as a result of Cherry's crimes.
Cherry, who ran Investment Solutions in Albany, Auckland, held the hand of his partner and kissed her before being led into the dock.
They were watched from the public gallery by a handful of the 175 investors he stole from.
The charges, laid by Serious Fraud Office prosecutor Todd Simmonds, related to offending between 2002 and 2007.
Cherry funnelled more than $1.2 million of the stolen money into his business through buying 250 shares.
He used $583,000 of investor money for his own personal use and $2.7 million to repay other investors, in what is commonly known as a Ponzi scheme.
During the hearing Cherry's lawyer, Matt Dixon, addressed the possibility of some of the $4.7 million being repaid to investors.
"It would be unhelpful to investors to think that there were any funds because that is not the case."
He said Cherry was willing to take part in a restorative justice conference with investors if they were interested.
Community magistrate Diane Hale said she would allow the conference if investors wanted it. She remanded Cherry in custody until sentencing in December.
One of Cherry's victims was Pete Moir, who said outside the court that he considered Cherry a friend when he invested the $100,000 proceeds from his house sale.
Mr Moir said Cherry used to drop around for a cup of tea.
"I never got statements. I just let it cruise because I trusted him."
He said Cherry "never promised the world" but said even in a worst-case scenario, he would still do better than the interest rates on offer from the banks.
"The best-case scenario was we would make a lot of money."
Mr Moir said he asked for his money back in 2009, but Cherry convinced him to hold on until the end of the financial year.
Mr Moir said he was doing up his house so he took out a loan for $100,000 based on the belief that his investment with Cherry was about to mature.
Instead, he has been left owing $100,000 on his revolving home loan - which he refers to as his "revolting home loan".
He is also unlikely to see any of the $100,000 that he invested with Cherry.
"I'm going to lose my house."
Cherry is the latest in a string of financial advisers to rip off family and friends.
This week Jacqui Bradley was found guilty of 75 fraud-related charges after a month-long trial at the Auckland District Court.
One of her victims was friend Kathleen McDermond, who lost $485,000.
SFO general manager of financial markets and corporate fraud, Simon McArley, said Cherry met many of his victims when he worked as an agent for another company.
He took the customers with him when he went out on his own.
Mr McArley said many of the victims continued to invest with Cherry based on the trust he built up in his former job.
And he had this warning for investors:
"You need to ask some hard questions, rather than just relying on the trust from the previous relationship."
Having said that, Mr McArley said it was important not to blame the victims.
"At the end of the day, the losses here are attributed to the fact that [Cherry] didn't give them what he promised."