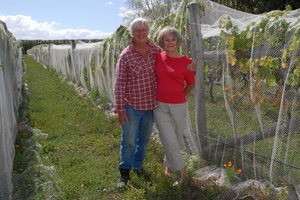 A decision to classify an Australian cattle dog as menacing after it bit a Wairarapa postie has been upheld.
Martinborough couple David and Winifred Bull had appealed the classification, telling a South Wairarapa District Council panel two weeks ago that the 3-year-old dog, Freddie, was not a threat to anyone but the postie.
In early July, Freddie bit postman Richard Tannant and Mrs Bull needed seven stitches to her hand after trying to intervene during the incident.
The deciding panel, consisting of mayor Adrienne Staples, South Wairarapa councillor Brian Jephson and Carterton deputy mayor Elaine Brazendale, said in their report the incident could have been much worse.
"Because of the type of dog and the predisposition of the breed for herding, nipping and heeling traits, combined with the displayed behaviour and in the interests of public safety, no matter how small the risk, council has to mitigate against the risk."
The panel commended the efforts the Bulls had made to address Freddie's behaviour and urged professional training.
Mrs Bull, who owns Cabbage Tree Vineyard with her husband, said she felt the couple had a fair hearing.
"We had a statutory right to it, and we took it. We got our hearing, it was fair, the hearing didn't go our way but we'll just have to live with that."
The menacing classification means Freddie has to be muzzled in public, but Mrs Bull said as they did not walk him often in public, it should not be an issue.
For more articles from this region, go to Wairarapa Times-Age