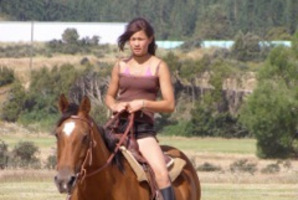 A teenage girl's two pet horses have been slaughtered during a night-time drive-by shooting in a remote South Island gorge that has baffled police.
Buller Gorge bushman Stephen McGrath was driving Clydesdales past a farm paddock where his 16-year-old daughter Rimu kept her beloved mare Dolly and its young foal, Rice.
He became worried when they didn't come running up to the roadside fence "like they usually do", and sent a farmhand into the paddock to check for them.
"She screamed her head off," Mr McGrath said relaying when the worker found two carcasses lying in long grass 30m from the road.
They had been shot through the head and were surrounded by pools of blood.
"The mare had been shot through the eye with a clean shot from a high calibre rifle," the experienced horseman said.
"The foal was shot in the head, but it wasn't a clean shot. It ran around the paddock for some considerable distance before it died. There was blood everywhere."
Mr McGrath, 61, then had to tell his daughter, a pupil at Murchison Area School, that her 12th birthday present had been killed.
"She's been up and down since the shooting," the father of four admitted.
"Rimu has grown up around horses, but Dolly was her old favourite. All of the photographs she sticks on her schoolbook are of her riding Molly."
Mr McGrath does not believe an experienced hunter could have mistaken the horses for deer but he hopes it was an innocent spotlighting accident.
Now, he has asked the hunting community to "out" the person responsible.
"It's better for my soul to think it was a case of mistaken identity, but it's hard to understand why they shot the second one," he said.
"It's too tough to handle that someone might knowingly shoot a horse."
Police are investigating the shooting, which occurred on August 30 on the McGrath property at the old Newton Livery between Murchison and Inangahua.
Local Murchison police constable Mike McDougall described it as " a real tragedy".
He visited the scene, took photographs, and was upset by what he saw.
"We've got horses - half of Murchison has horses these days - and it wasn't nice to see those dead animals in a field like that," he said.
He said inquiries were underway, and he is keeping an open mind over whether they were shot on purpose or it was "a case of mistaken identity".
"They could've thought they were deer," Mr McDougall said.
"But either way, it's concerning. We don't want people shooting from the road, or in the dark. In these circumstances, that's how people get killed."
- APNZ