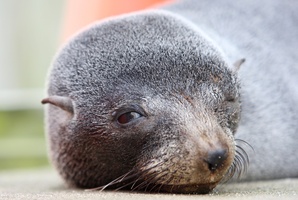 A dead seal pup in a dog's mouth has sparked a Department of Conservation warning to pet owners.
Seals often came ashore to rest this time of year and the New Zealand dotterel started to return to its nesting territories, DoC Gisborne-Whakatane biodiversity assets ranger Jamie Quirk said.
"We want them to be free from the disturbance of dogs."
The seal pup carcass was sent to Massey University Vet School for a necropsy. It was found to have injuries consistent with being bitten and shaken by an adult fur seal.
"In this case, the seal pup might have died on the beach and been picked up and carried by the dog. But it was a reminder for dog owners to be vigilant about their pets' whereabouts.
"It's not good for either animal. The dog could have killed or maimed the pup and an adult fur seal is more than capable of killing a dog, but if you control your dog none of this needs to happen.
"Nature is cruel, but dogs disturbing seals is unnecessary when life and death for juvenile seals is difficult enough. Dogs are also known to kill dotterel chicks."
Having an uncontrolled dog in a public place could incur a $200 fine under the Dog Control Act 1996, Gisborne District Council animal control team leader Steve Greaves said.
Penalties are severe if a dog is found annoying or disturbing wildlife.
Owners could face prosecution in the District Court and, in some instances, be banned from owning a dog.
"All reasonable steps should be taken to ensure dogs are on a lead in public places," said Mr Greaves.
If people find a severely injured seal, or one entangled in marine debris or being harassed by people or dogs, DoC encourages them to call the DoC Hotline 0800 362 468.
Any disturbance to dotterel by people or dogs should also be reported.