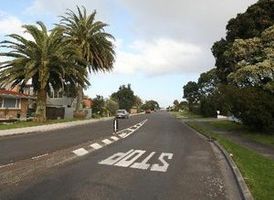 Neighbours of a 7-year-old girl who was sexually assaulted by an intruder are anxious and scared, and hope the offender is caught quickly.
Police are hunting for a man who broke into a Tauranga house and woke the young girl in her bedroom late Tuesday night or early yesterday morning.
They confirmed today she had been indecently assaulted by the attacker.
"I think everyone's a bit nervous and a bit scared,'' a shocked neighbour of the Oceanview Rd, Mt Manganui property said. "Whoever this creep is I hope he gets caught.''
The woman's three children went to the same school as the girl.
"It's just too close to home. It doesn't really happen that much around the Mount. You hear about it in Tauranga but not really in the Mount,'' she said.
Senior Sergeant Lew Warner said the girl told police she was woken by a man who entered the bedroom she shared with her younger sister.
A detailed scene examination was completed yesterday and the girl was interviewed by a specialised interviewer.
"She is being supported by family at this time and has given a good description to police.
"This is a disturbing incident and it is very important we locate this offender. We are appealing for anyone who has seen suspicious activity in the Sutherland Road and Oceanview area to contact us.''
Neighbours reported police cars arriving at the house about 8.30am yesterday.
At one point two unmarked police cars and four marked cars were at the scene.
Police went door-to-door seeking information from neighbours. One nearby resident told the Bay of Plenty Times the police asked him if he had seen anyone looking in the windows but he was unaware anything had happened until the morning.
"It was so windy last night I actually didn't hear anything,'' he said. "This is an awesome neighbourhood. I never lock my car or anything. We're just surrounded by families.''
Another neighbour said she often got up to check what was going on when she was woken by a dog barking but did not hear anything on the night of the break-in.
"It really is a house that's ideal to break into because it's surrounded by the trees.''
The offender is described as a Maori man in his 30s with mohawk hair-style and earrings in his left ear. He was wearing a blue jacket with white stripes and knee high shorts with a Maori design down both sides, along with black running shoes.
Mr Warner appealed for information on the intruder. The incident was a timely reminder for people who see something suspicious to speak up.
Police can be contacted on 07 5774 300.
If people wish to give anonymous information they can do so by calling CRIMESTOPPERS (0800 555 111).
For more articles from this region, go to Bay of Plenty Times