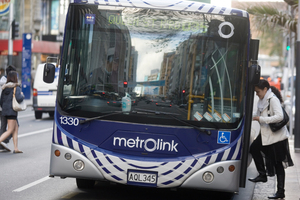 The Herald last week reported that old Hop cards may be exchanged free of charge for new ones. The Maxx website says new Hop cards for the trains are $10 each. Can you please clarify this? Also, from what date are we able to make the old-for-new exchange? I understand that most people will still need their old one to use on the buses, but I don't as I have moved house and am now a train user. If you are a bus and train user you will ultimately end up with two cards - would a refund be in order for those people once everything is integrated? Jan Patterson, Auckland.
To clarify: the new pre-pay card, to be called the AT Hop card, will have a one-off cost of $10.
The new card will come into use on October 28 on trains only. If at that time you have a 10-trip ticket, you can continue to use that until its expiry date.
Any monthly passes still in use after October 28 can be used until their expiry date.
The current Hop Snapper card, available for use on NZ Bus buses, will eventually be phased out and replaced with the AT Hop card once an integrated ticketing system is in place.
I have noticed more and more that drivers sitting at a red filter arrow are deciding that the road is clear and making the turn. I thought that red means stop even if it's an arrow. I've noticed this particularly at the junction of Carbine Rd and the right turn into Bowden Rd in Mt Wellington and truck drivers appear to be the leading risk takers. Is it legal to take a right turn against a red turning light? Steve Setterfield, Auckland.
Absolutely not.
I am retired and living on superannuation, so economy is important to me. I wish to know if it is cheaper to heat water using electricity or gas (LPG). I buy my electrical energy at a known price per kilowatt hour. I buy my LPG at a known price per kilogram. What I really want to know is, how many kilowatt hours of energy are produced when one kilogram of LPG is burned? If I know this I can easily work out which is cheapest. I have looked on the internet and I can find figures for a litre of LPG but not a kilogram. Fred Flowers, Auckland.
I too looked on the internet, and discovered that the calorific value (the energy contained in a fuel) of liquefied petroleum gas (LPG) is 45 megajoules (MJ).
This converts to 12.5 kilowatt hours per kilogram of LPG.
The exact conversion factor depends on temperature.
Please can you clarify what the yellow cross-hatch markings on the road surface (eg junction of Mt Eden and Valley/Oaklands Rds) mean? I understand that it's a "box junction" where vehicles are not allowed to enter unless they can make their way through it. I ask as there are always cars queued in it. Am I right please? Andrew Parsons, Kohimarama.
Yes you are. In New Zealand, a driver should not enter any intersection unless the exit is clear.
The yellow cross-hatching is used as a reminder of this practice in situations where it would be dangerous for vehicles to queue, such as near emergency vehicle exits.