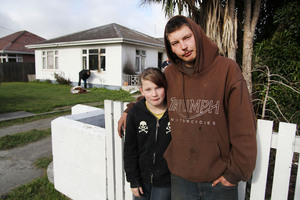 A jealous rage may be behind an early morning fire bombing attack on a Christchurch house.
Five people, including a 12-year-old girl, were asleep in the Hornby house when it was set alight about 12.10am yesterday.
Two molotov cocktails were thrown into a bedroom, an accelerant was poured onto window sills and parts of the house, and an attempt was also made to set a car outside on fire during the attack.
Late yesterday, police were still hunting for the man they believe is responsible for the attack.
They were seeking a maroon Honda Accord station wagon.
A 45-year-old woman, who was a boarder in the Amyes Rd house, told The Star the man police were seeking had been stalking her for some time.
They had been friends but she did not want to get into a relationship, she said.
Her current boyfriend was at the house when it was firebombed, and it was his car parked on the road that an attempt was made to set alight.
"The guy's got a real problem with me because I wouldn't go out with him. I didn't want to know him. It was a case of extreme jealousy," the woman said.
Graeme Delaney, 24, who lives in the house, heard a window smash just after midnight.
A molotov cocktail had been thrown into the bedroom of the boarder.
"She came into my room asking where the fire extinguisher was. I went into the bedroom. Everything was on fire including blankets which I picked up and threw out the window, onto the front lawn. My sister, Katie-Rose, 12, was in the bedroom next door, asleep. I rushed in and grabbed her. It was scary," he said.
They managed to put the fire out before firefighters arrived.
Mr Delaney said diesel had been poured on the bonnet and beneath the boarder's boyfriend's Holden Commodore on the road.
Occupant Jason McLaughlin burnt his hand after he put the fire out, started underneath the car.
Police cordoned off the house yesterday , dusting windows for fingerprints and collecting evidence.
Mr McLaughlin said: "We are lucky to be alive. We still have a house standing which is good. But another couple of minutes it would've been a different story. We wouldn't be here if we hadn't woken up when we did and the house would've gone up in flames if we hadn't extinguished it," he said.
Detective Damon Wells said police were seeking two males who helped at the scene shortly after the attack.