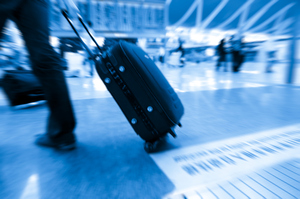 Fine dodgers apprehended at New Zealand's border have agreed to repay more than $10 million in overdue fines during the past four years.
Figures released under the Official Information Act reveal 500 travellers owing outstanding fines were stopped at airports and ports since 2008/09.
Most were stopped at Auckland international ports (376), followed by Christchurch (54), Wellington (52), Hamilton (8) and Dunedin (6).
Last month, a New Zealander returning from Australia who owed $4000 in overdue court fines was greeted by Dunedin police at Dunedin Airport.
Instead of visiting friends and family, the 35-year-old was taken into custody.
The police later took her to Dunedin District Court to arrange payment.
Courts Minister Chester Borrows said he had a simple message for fine dodgers: "Come to us before we come to you."
While it was possible some New Zealanders might have left the country in the past to avoid paying fines, new collection initiatives made "this a very foolish risk to take today".
Mr Borrows said the Government was determined to maintain fines as a credible and effective part of the justice system, with measures such as improved data matching "paying real dividends".
More than $10 million had been recovered over that four-year period.
For 2011/12, 85 per cent of those owing outstanding fines had arrived from Australia, followed by Hong Kong (4.92 per cent) and Samoa (4.1 per cent).
A Ministry of Justice spokesman said travellers could be stopped at New Zealand airports upon arrival or departure if they had unpaid fines.
Intercept alerts were triggered by people who had unpaid court-imposed fines or reparation, and a warrant to arrest. When those alerts were triggered at an airport, Customs would notify police.
If full payment or arrangement could not be made, the police could arrest the person, with a summons to appear in fines courts.
They would therefore be unable to travel.
The Courts and Criminal Matter Bill, which came into effect on February 13, included the ability to release the amount of a person's overdue penalties to credit reporting agencies, which could provide contact details to the Ministry of Justice.
From August 1, judges have been able to cancel unaffordable or unenforceable reparation and replace it with any other sentence available at the original sentencing.
This can include imprisonment, home detention or community work.
38 YEAR OLD FINE UNPAID
Where in the world is Edward Alexander McNeil?
The 62-year-old - who celebrated his birthday last week - has the dubious distinction of owing New Zealand's longest outstanding fine.
Information obtained by the Otago Daily Times reveals that Mr McNeil, whose only official address was care of an Auckland solicitor, owes five reparations imposed on September 27, 1974.
The reparations related to "using false pretences" and now total $11,318.81.
The Ministry of Justice attempted to locate Mr McNeil's details in March and a warrant has been issued for his arrest.
- Otago Daily Times