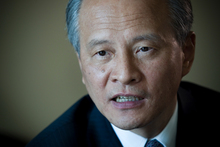 China's Vice Foreign Minister has described John Key as very friendly, despite the Prime Minister's remarks about the Asian superpower as having "growing tentacles".
Speaking of China's influence in the Pacific, Mr Key had said there was little other countries could do to stop it.
"It's not something you can stop anyway, for a start off, China has growing tentacles around the world, it's been growing a footprint around the world.
Asked if he was offended by the phrase, China's Vice Foreign Minister Cui Tiankai said he had read Mr Key's comments "but I just had a very good meeting with the Prime Minister himself ... I don't think he talks in a very unfriendly way. He was very friendly."
Mr Key used the description at the Pacific Leaders' Forum last week when asked whether there was a need to be concerned about China's influence in the Pacific. Asked yesterday whether it was an appropriate phrase to use about another countries' international aid, Mr Key said he did not believe it was offensive.
"It just means they have widespread interests round the world. I wouldn't have thought it was terribly offensive."
China's aid programme was a focus of the Pacific Islands Forum last week, largely because of United States Secretary of State Hillary Clinton's visit, which was seen as prompted by concern about China's influence in the Pacific.
Mr Cui rejected suggestions China was trying to buy influence in the Pacific, saying China was simply trying to be a good partner to developing countries.
"We are not here to compete with anybody. We are here in this region not to seek any particular influence, still less dominance."
Ms Clinton was at pains to say the US did not object to China's involvement, saying "the Pacific is big enough for all of us."
However, she made it clear that she expected China to make its aid programme more transparent.
"Here in the Pacific, we want to see China act in a fair and transparent way .. there is a great opportunity to work with China and we are going to be looking at more ways to do that."
Yesterday Mr Key said the United States' nervousness - and Mrs Clinton's warning yesterday that aid should be transparent - was partly because of conditions put on aid given to some African countries by China - such as access to minerals or other resources. He did not know of any similar cases in the Pacific.
"You have to be careful when you ask for that aid, as to what it might mean. Quite a few Pacific countries have taken loans from China and that has implications for their [credit] ratings and rankings. It's just a caution."
By Claire Trevett @CTrevettNZH

Email

Claire