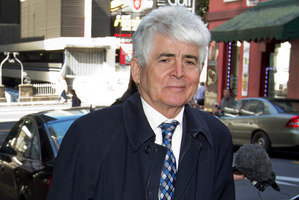 A junior lawyer hired by Barry Hart has filed a complaint against the veteran barrister, saying he owes her more than $7000 for weeks of work at his Auckland chambers.
Zina Anderson moved from Wellington to work for the 71-year-old last year but the relationship soured six weeks later and she has since struggled to get a job and has been living on a benefit in her parents' home.
The Legal Complaints Review Officer is investigating her complaint after the Law Society ruled it had no power over the case as it was an employment issue.
The complaint is a new blow for Mr Hart, who was last month found guilty of professional misconduct in a Lawyers and Conveyancers Disciplinary Tribunal hearing over claims he overcharged clients for his service.
Miss Anderson, who graduated from Auckland University two years ago, said Mr Hart asked her to attend a job interview after she emailed him asking if he had any work available.
During the meeting, he asked what her current salary was and said he could pay slightly more, indicating his staff were paid on a monthly basis.
She was offered the job and gave notice at Rainey Collins, where she worked as a Treaty lawyer, and drafted her own contract after Mr Hart advised her to do so.
He said she should call herself an independent contractor to the firm and that her wage would eventually be worked out, Miss Anderson said.
When she started the job in October, Mr Hart told her the contract would "come through in due course" but over the next few weeks, he did not make mention of it again.
While away sick in November, Miss Anderson told Mr Hart she would be laying a formal complaint with the Law Society.
She said he replied: "Zina, how about you come in and we can finish our relationship both personally, financially and professionally."
She is now awaiting a Lawyers and Conveyancers Tribunal hearing.
In correspondence seen by the Weekend Herald, the Law Society said it did not believe Mr Hart had breached the Lawyers and Conveyancers Act and it did not resolve employment-related disputes.
"Mr Hart's response was that he had no intention of not paying Ms Anderson for her time but due to pressures of work and illness he suffered, he did not notice that Ms Anderson had not rendered an invoice at the end of October," the society's standards committee said.
He said that when she did provide an invoice - calculated at $26 an hour - it did not account for GST.
Miss Anderson said she had not lodged a complaint with the Employment Relations Authority as she did not believe she would be covered.
The Herald revealed yesterday that Mr Hart is also embroiled in a dispute with his neighbour, former Rodney deputy mayor David Steele, who purchased at a mortgagee sale a 40ha block owned by Mr Hart.
Convicted criminal Jamie Lockett has been parked on the Waimauku property for four days, threatening Mr Steele with trespass.
Mr Hart's $26 million worth of property in West Auckland was sold in a mortgagee sale, debt collectors have seized luxury cars and a company he owned was put into liquidation over an unpaid tax bill.
He owed the bank $30 million and was being charged $200,000 a month in interest.
The Weekend Herald could not contact Mr Hart yesterday.