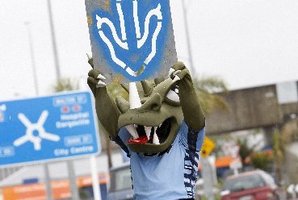 Stories making headlines across New Zealand at noon include a foul mouthed chef, poverty stricken elderly people watering down their milk and parents who live in fear of their son.
A foul-mouthed Christchurch chef has dropped his fake Italian accent, but is apparently still upsetting customers with a fiery temper.
Poverty stricken elderly people in Wanganui are reduced to watering down their milk to make it go further and staying in bed longer to save power by not turning on heaters.
The parents of a troubled Tauranga teenager say his violent outbursts have left them fearing for their lives.
The Rotovegas/Ashvegas debate is heating up.
Tane the Taniwha is leaving a trail of Cambridge-blue footprints in Whangarei.
An early start to spring has been signalled by kowhai trees starting to flower. So get back into the garden.
Okaihau's new fire engine has a lot more grunt.
Apparently the laws of New Zealand do not apply to Marc Pawley because he is not a member of New Zealand society.
When is a pedestrian crossing not a pedestrian crossing?
Hamilton will no longer host the International Biology Olympiad in 2014.
The coroner's court has heard a Rotorua woman jailed for the death of her baby while they slept together in a car was told by her midwife it was safe to sleep with the baby.
Somebody thought it would be fun to go trout fishing with a spear.
Have you seen this woman?
Tararua police are warning drug growers to "watch out".
Details of the 50 events which make up the inaugural Hawke's Bay Food and Wine Classic, or FAWC, have been revealed.
Raimaree Banks from Te Karaka was "bummed out" after she won the trip of a lifetime in a $5 raffle.
A man has died after a motorcycle crash near Wanganui this morning.
Kickboxer Cody Tomuri of Masterton was growing some marijuana on the side.
Lance Armstrong is still Paul Wylie's hero.
Two Dunedin painters were relieved they remembered to take a mobile phone with them to work yesterday seven floors above the ground.
A Dunedin woman was horrified when she opened her bagged lettuce.
A woman who watched her daughter and a friend's daughter knocked down by a car in Dunedin said it felt like time stood still.
Spare a thought for the safety-conscious parent who attached a child safety lock to their fridge, only to find their child had swallowed part of the lock's backing paper.
A man allegedly indecently exposed himself and performed a lewd act in front of a female pedestrian in central Dunedin.
The sad reality of fatigue-related crashes in Waitaki is they often happen at high speed.
The Accident Compensation Commission (ACC) has vacated its Greymouth premises due to earthquake concerns.
Meanwhile old-time miners are worried Greymouth will become a ghost town.
Top trending topics on Twitter in NZ at Noon include: #projectrevolution, Daffodil Day, Wellington, Auckland, New Zealand and Facebook.