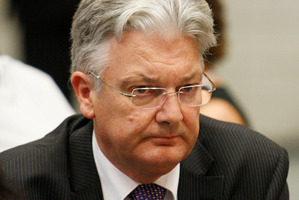 A policy to cap growth in Government spending which was part of the confidence and supply agreement between National and Act has been temporarily scrapped after it became clear United Future would not support it.
Finance Minister Bill English yesterday introduced the Public Finance (Fiscal Responsibility) Amendment Bill to Parliament, which set out "improvements to fiscal policy and management of taxpayers' resources".
However a spending cap to limit any increase in Government spending to the annual rate of inflation multiplied by population growth which National agreed to as part of its confidence and supply agreement with Act was left out.
"The decision has now been made to introduce the spending limit as a standalone Bill later this term", Mr English said in a statement.
Act leader and MP John Banks told the Herald the spending cap was left out at his request.
"There was some doubt about the numbers and given that, I thought it was a good idea to separate it from the substantive piece of legislation."
United Future Leader Peter Dunne yesterday confirmed the spending cap was removed as a result of his opposition.
"There was a serious constitutional principle here of one Parliament effectively binding its successor.
"That's never been part of our constitutional arrangement and I also think that it's an impractical idea anyway."
Mr Banks said he respected Mr Dunne's point of view but the United Future leader had indicated he would support the standalone legislation for the spending cap at its first reading.
Mr Dunne said he "may well" support the legislation to the select committee stage, "but I've made it very clear to Mr Banks right the way through that my objections are paramount and I would not support it beyond that stage."
A spokeswoman for Mr English said the spending cap legislation would be a Government bill under Mr Banks' name and National would support it at all stages.